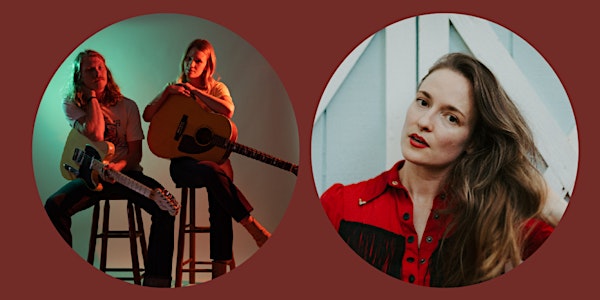 Brother and the Hayes and Dawn Landes Duo
Performers
Brother and the Hayes, Dawn Landes
Location
The Evening Muse
3227 N. Davidson Street
Charlotte, NC 28205
Brother and the Hayes and Dawn Landes Duo
About this event
Brother (a.k.a. David Bingaman) and The Hayes (a.k.a. Jennie Hayes Kurtz) are siblings hailing from Dallas, Texas. Growing up, Jennie Hayes sang in the choir while David taught himself to play guitar by listening to blues musicians like Stevie Ray Vaughan and Ligntin' Hopkins. They both became interested in folk music and songwriting in college and began to collaborate while attending the University of Arkansas at Fayetteville. David and Jennie Hayes found that their love for the blues, country music, and bluegrass was the perfect vehicle for their playful, honest, and story-driven songwriting.
They decided to move to Nashville after college and dabbled with careers in the music industry, settling into day jobs where they could be surrounded by music on a regular basis. Jennie Hayes began working for the Country Music Hall of Fame and Museum where she received an extensive education on the history of country music and helped with exhibits doing things like dress mannequins with Alan Jackson's blue jeans. She eventually joined the museum's education team where she wrote and taught songwriting curriculum and organized tours and songwriting programs for students. David worked for three years at the historic Bluebird Café frying up chicken fingers for Bluebird regulars and legendary songwriters like Kris Kristofferson and Don Schlitz. David often let his sister sneak in the back of the café where she could hide in the hallway and listen to some of the best songwriters in the world. Between the Country Music Hall of Fame and the Bluebird, the siblings' first few years in Nashville were a crash course in songwriting and the music industry.
Inspired by Nashville's best, David and Jennie Hayes could not kick their desire to write and play their own music. They made some career changes and officially formed Brother and The Hayes in 2017 and released 'The Dead End EP'. In 2019 Brother and The Hayes produced and released their first full-length album, 'Tennessee Nights', and in 2021 released another EP produced by Ken Coomer titled 'The Art of Letting Go'. In June 2022 the band released another self-produced EP titled 'Another Strange Tiime' recorded at Aviles sound in Nashville, TN.
"Over a steady, lightly rocking arrangement, enhanced by a soulful guitar solo and sprinkling keys, 'Something to Find' recalls the Drive-By Truckers at their most thoughtful." - The Indy Review
Facebook | Spotify | Instagram
************
Dawn Landes is a singer-songwriter based in Chapel Hill, NC whose music you might have heard if you watch The Good Wife, House or Gossip Girl. She's known for her lyricism and textured vocals that meld elements of indie rock, alt-country, and folk. Along with releasing six albums since 2005, she has toured internationally supporting artists like Sufjan Stevens and Mary Chapin Carpenter and appeared as a featured vocalist with the NYC Ballet and on the TED main stage. Dawn's most recent album is a collection of songs from her musical ROW, which premiered in 2021 at Williamstown Theatre Festival and is available on Audible. ROW tells the true story of the first woman to row solo across the Atlantic Ocean.