Description
THE BROOMFIELD COMMUNITY FOUNDATION PRESENTS:
THE ELEVATE BUSINESS EXPERIENCE
THE ENTREPRENEUR MINDSET: THE TOP 10 BUSINESS AND PERSONAL SUCCESS MUSTS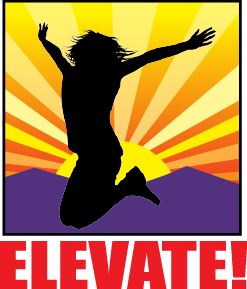 For BUSINESS OWNERS, EXECUTIVES, and ENTREPRENEURS

Presented by the Broomfield Community Foundation
---
What makes the TOP BUSINESS OWNERS, EXECUTIVES and ENTREPRENEURS any different than you?
---
Do you know what your ideal BUSINESS VISION is and exactly how to obtain it?

Do you know how to have a PREDICABLE AMOUNT of new clients/customers every week without having to sacrifice all of your time?

Do your SYSTEMS IN PLACE require little stress and flow SMOOTHLY?

Do you know the KEY METRICS that are musts for success in every position?

Do you know your numbers? Do you know exactly how much REVENUE you need to meet your minimum overhead?

Do you truly know your PURPOSE IN LIFE and how to reach your maximum potential?

Do you believe in your ABILITY TO BECOME successful?

Are you CERTAIN that you know how to find your clients/customers CHALLENGE and that you are the SOLUTION?

Can you TALK to anyone, anywhere, anytime about your BUSINESS?

Do you KNOW that if you would just be more SELF-DISCIPLINED you would ACHIEVE what you want?

Would you like to tap into some of the most SUCCESSFUL ENTREPRENEURS in BROOMFIELD

?

Do you want to be a

POSITIVE FORCE FOR GOOD?
---
Come join us for this charitable event to network, enjoy breakfast, and learn from guest speakers Ben Vagher and Dr. Keppen Laszlo.
THE ENTREPRENEUR MINDSET: THE TOP 10 BUSINESS AND PERSONAL SUCCESS MUSTS!
---
MUST RESERVE TICKET BY AUGUST 2nd AND SEATING IS LIMITED.
Registration is $79. Reserve your seat by August 2nd
and your TICKET IS FREE!
---
Biographies:
Ben Vagher is a local business owner and 40-year Broomfield resident. Ben started his career as a math teacher for 7 years and later started and built his own construction company with over 100 employees. He is highly involved in the community, including organizations such as past President of Broomfield Community Foundation, Nativity of Our Lord Parish, Colorado Contractors Association, Senior Resources of Broomfield, and Broomfield High School to name a few. Being a business owner and entrepreneur, Ben realizes the importance of business success and is a mentor to a number of business owners.
Dr. Keppen Laszlo is the Founder and Executive Director of one of the largest groups of wellness centers in the state of Colorado, Discover Health and Wellness He developed the non-profit organization The Elevate Foundation and is a recognized leader in his field. He is a contributor to the NY Times best-selling book, Body by God and One Minute Wellness, and the best-selling author of the book Elevate – Self Awareness through Courage, Potential, and Fulfillment. He has been a featured speaker at Barnes and Nobles and a frequent guest on NBC's Colorado and Company. He is an award winning presenter and has shared the stage with: John Assaraf, Mark Randall, Mike Koenigs, and Bill Phillips.
FAQs
How can I contact the organizer with any questions?
Please call the Broomfield Community Foundation at 303-469-7208 for any questions or send an email to karen@broomfieldfoundation.org.