Description
Enjoy a morning of Broom Busting Fun at the Alto Bowl Open Space Preserve in Mill Valley. Join the Marin County Bicycle Coalition, Horse Hill and Marin County Open Space District on June 3rd to remove French Broom and other invasive plants from the Bob Middagh Trail corridor. It's fun for the entire family and, the pièce de résistance, a yummy pizza party for all volunteers! I caught up with Greg Reza, Volunteer Program Coordinator and Park Ranger for Marin County Parks & Open Space to learn more.

What is French Broom and why do we need to remove it?
French Broom is an invasive species which if left alone will take over the grassland and that is a problem for many reasons. It impedes on the habitat of our native grasses and wildflowers and its foliage and seeds are toxic to horses and wildlife. It's also very time consuming and costly to eradicate. Because it grows so thick and fast, it becomes a big inconvenience to trail users who cannot use this important multi-use trail. Additionally, this vital grassland leads to a eucalyptus forest. Because french broom is highly flammable and spreads densely, it makes it a very dangerous fire hazard, especially with our hot and dry summers. This is why we need volunteers to help.

Nobody pulls weeds better then kids, especially little kids. Can they join too?
Kids of all ages are welcome and expect a visit from some surprise guests, the resident horses on the hill! Plus everyone gets to enjoy our pizza party! It will be a lot of fun to celebrate with new and old friends after a hard day's work.

What should I wear and do I need to bring any tools with me?
Tools and gloves will be supplied. Please wear long sleeve pants and shirts, closed toed shoes and a refillable water bottle. We will bring plenty of extra water to keep you hydrated.

What other local organizations will be there?
This event is supported by the Trail Partners "Slow and Say Hello" campaign, a joint collaboration between the Marin Horse Council, the Marin County Bicycle Coalition (MCBC) and the Marin Conservation League. Collectively, they're trying to collaborate with all stakeholders to make our trails safe for all to enjoy the beauty, adventure and wilderness of Marin's public lands. Whether you're on foot, hooves or wheels, slow and say "hello" when you pass fellow travelers. We all deserve safe trails.

Broom Pull on Bob Middagh Trail
Sat, June 3, 2017
10:00 AM – 1:00 PM PDT
Alto Bowl Open Space Preserve, Mill Valley
Lunch will be provided by Horse Hill.
ATTENTION STUDENTS: This workshop is good for 3 hours of community service!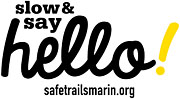 Directions: from 101 to the Alto Bowl Fire Road
Exit onto E Blithedale Ave.
Right up Camino Alto
Right onto Vasco Dr.
As Vasco Dr. curves around to the left, the name of the street will change to Underhill
Continue straight on Underhill
At the Scott Valley Tennis Club, Left on Coach Rd.
The Alto Bowl Fire Road starts at the top of Coach Rd.
There is ample parking on Coach and Underhill. Please do not park in the parking lot of the Scott Valley Tennis Club.
Date and Time
Location
Alto Bowl Open Space Preserve
Alto Bowl Fire Road (near Coach Road col de sac)
None
Mill Valley, CA 94941