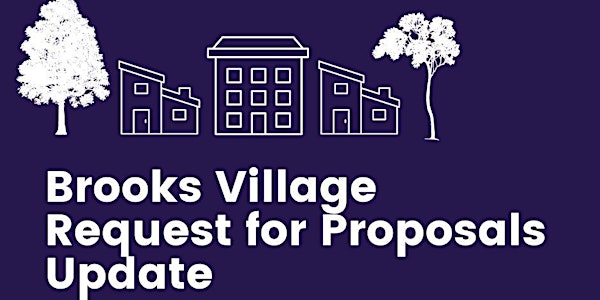 Brooks Village Request for Proposals Update (Virtual Meeting)
Join King County to discuss an upcoming Request for Proposals to explore affordable housing development at Brooks Village.
Date and time
Saturday, June 3 · 10am - 12pm PDT
About this event
Learn about an upcoming Request for Proposals for exploring affordable housing development at Brooks Village in Skyway-West Hill and help inform a community-driven outcome at this site!
King County's Departments of Community and Human Services, Executive Services, and Local Services are hosting a virtual community meeting to discuss Brooks Village, an undeveloped parcel owned by King County located in Skyway-West Hill. Brooks Village has long been of interest by Skyway advocates as a site for affordable housing and open space conservation. In 2021, King County hosted two community meetings to gather feedback from the community about their affordable housing goals and how best to achieve a community-driven outcome at Brooks Village.
At this meeting, King County will provide an update about Brooks Village including an upcoming Request for Proposals and how the County is incorporating feedback received in 2021. Skyway residents are invited to share input regarding the Request for Proposals' proposed process and scope to align the outcomes with the community's priorities.
This meeting will be hosted on Zoom. All registrants will be emailed the Zoom link prior to the meeting.
If you have any questions or would like more information please contact Yasmeen Perez, Equitable Development Program Manager at yaperez@kingcounty.gov.
Contact information collected in this registration process will be used to contact you regarding information for this event, including materials, updates and Zoom meeting information as well as ongoing updates about anti-displacement, affordable housing, and equitable development work at the County.
The image above is Brooks Village, located at 11433 Renton Ave. S.
About the organizer

Department of Community and Human Services