Description




ConsenSys Lead Sponsor




BROOKLYN TECH WEEK
November 7th - 10th, 2018
Future of Tech


#BkTechWeek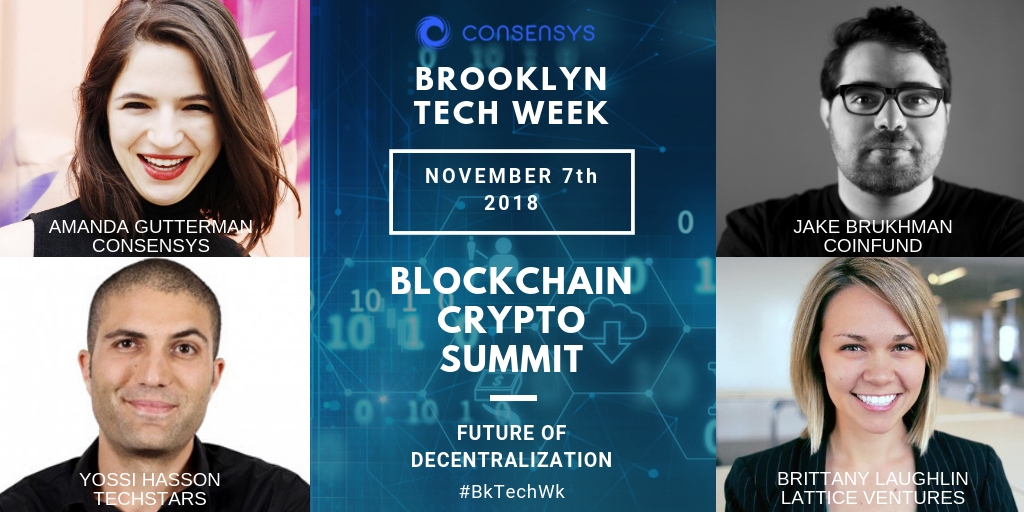 DAY 1: BLOCKCHAIN CRYPTO SUMMIT
November 7th, 8:15am - 6pm @ The Williamsburg Hotel
96 Wythe Avenue, Brooklyn, NY 11249

Lightyear Venture Talks + Blockchain Crypto Summit + Women Leadership Forum
PAID TICKETS REQUIRED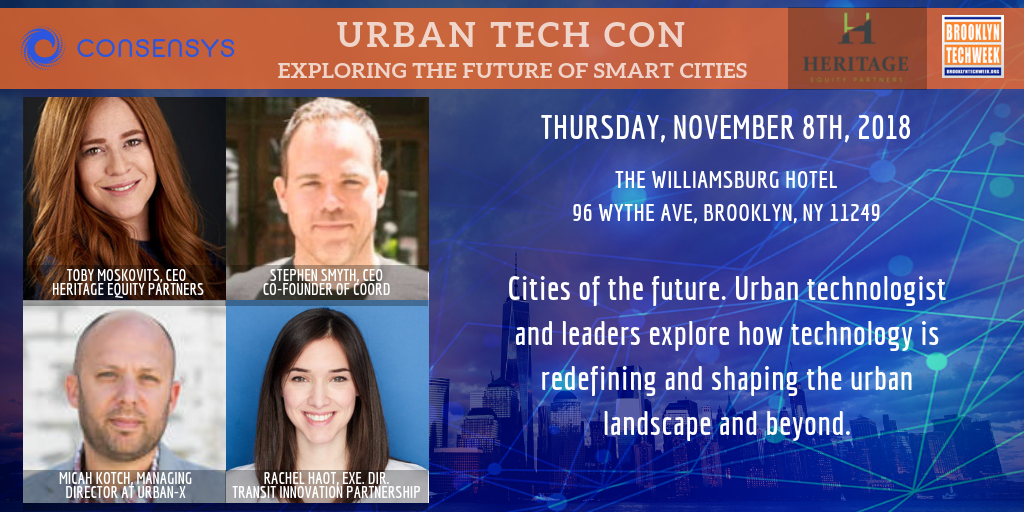 DAY 2: URBAN TECH CON
November 8th, 9am - 6pm @ The Williamsburg Hotel
96 Wythe Avenue, Brooklyn, NY 11249
The Future of Urban Tech and Smart Cities
FREE EVENT, RSVP REQUIRED

DAY 3: START-UP ECON
November 9th, 9am - 6pm @ Brooklyn Commons
7 Marcus Garvey Blvd. Brooklyn, NY 11206
Startups, Entrepreneurs and Creatives, where tech leaders help grow and scale your business
FREE EVENT, RSVP REQUIRED

DAY 4: BK URBAN BLOCKCHAIN HACK
Sponsors: ConsenSys, DAOStack
November 9th, 6pm - 9pm @ Bushwick Generator
215 Moore St. Brooklyn, 11206
(Tutorials and Workshops)

November 10th, from 9am - 9pm @ Bushwick Generator
215 Moore St. Brooklyn, 11206
FULL HACK DAY
Bk Urban Blockchain Hack (DAOStack & ConsenSys)
Come to explore decentralized companies, governance, and markets to help make fast and innovative decisions at scale.
FREE EVENT, RSVP REQUIRED


https://BrooklynTechWeek.org
---
BLOCKCHAIN CRYPTO SUMMIT: The Blockchain Crypto Summit aims to answer core questions on the state of blockchain technology and cryptocurrency. As we exit Q4 of 2018, the experts recap an exciting year and look to forecast expectations leading up to 2020. Respected speakers outline record-setting accomplishments and view on the growth of blockchain.
URBAN TECH CON: Join 25 plus urban experts and technologists discussing how to shape a sustainable urban future. Engage and discover how smart cities will transform urban living, playing and working as we know it. Let's leverage technology and leadership to facilitate social mobility and equity. Entrepreneurs, investors and urban tech accelerators will share how to start and scale an urban tech business. Recently funded urban tech start-ups will present their latest and greatest products.
STARTUP ECON: A full day of immersive learning, big connections, and events geared for entrepreneurs to gain access to resources, capital, networking, and partnership development. Startups receive a world-class accelerated learning experience from successful tech leaders sharing insight on growth, scalability, culture, venture funding, additional funding resources and much more.
BK URBAN BLOCKCHAIN HACKATHON: In the spirit of a decentralized Brooklyn--creating the foundation for social mobility and equity for all--we will kick off the inaugural year by hacking on two foundational blockchain topics: smart contracts and DAO's (decentralized organizations). Let's come together to see how we can use these mechanisms to start improving the way we live, work and play in Brooklyn.
#Brooklyn #Startups #Investor #Entrepreneur #Accelerator
#StartupGrowth #GrowthStrategies #GrowthHacks
#Tech #FutureOfTech #AI #IoT #Blockchain #Cryptocurrency
#BigData #Fintech #AR #VR #RETech #PropertyTech #STEM
#ML #DataScientist #UrbanTech #Urban