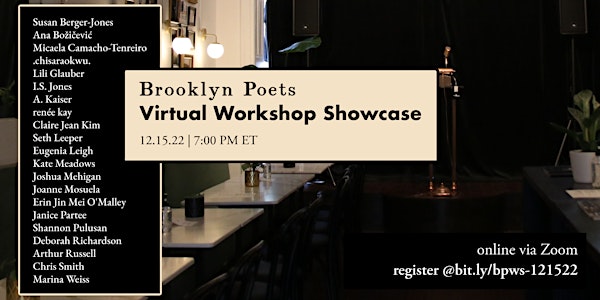 Brooklyn Poets Virtual Workshop Showcase
Virtual Workshop Showcase highlighting the work of our students and faculty from our fall workshop season.
About this event
Join us for our fall Virtual Workshop Showcase on Thursday, December 15th, at 7:00 PM (ET) as teachers Ana Božičević, I.S. Jones, renée kay, Eugenia Leigh, Joshua Mehigan and Marina Weiss read from their work and personally introduce readings by their students, along with students from workshops led by Cynthia Cruz, Bernard Ferguson, Carlie Hoffman and dawn lonsinger. Free and open to the public.
Student readers include Susan Berger-Jones, Micaela Camacho-Tenreiro, .chisaraokwu., Lili Glauber, A. Kaiser, Claire Jean Kim, Seth Leeper, Kate Meadows, Joanne Mosuela, Erin Jin Mei O'Malley, Janice Partee, Shannon Pulusan, Deborah Richardson, Arthur Russell and Chris Smith.
Note that by attending the Workshop Showcase, you agree to abide by our code of conduct. Brooklyn Poets reserves the right to dismiss from our programs any participant found to be in violation of these policies.
Closed captioning will be available and the text of readers' poems will be screenshared during the event. For more information and to request additional accommodations, contact us at bkp@brooklynpoets.org.
Brooklyn Poets Code of Conduct
Brooklyn Poets will not tolerate any instances of discrimination, harassment or abuse in conjunction with any of our programs. Respect and consideration for others, both within and outside our programs, are core values to be upheld by all participants. Discrimination against and/or harassment of community members on the basis of race, ethnicity, sex, gender identity or expression, sexual orientation, disability, national origin, religion, age, marital status, veteran status or any other factor is unacceptable and will not be tolerated. Program participants are expected to adhere to all federal, state and local laws and regulations. Should a board or staff member, independent contractor, volunteer or program participant be found to violate any aspect of the organization's code of conduct, Brooklyn Poets reserves the right to dismiss them from the program. Consequences may include, but not be limited to, dismissal from the current activity, suspension, ineligibility for all future activities, and/or loss of payment or fees. If you have any issues to report, please do not hesitate to contact Board President Isaac Myers III (myersiii@brooklynpoets.org), Executive Director Jason Koo (koo@brooklynpoets.org) or Deputy Director renée kay (kay@brooklynpoets.org), and they will get back to you as soon as possible.