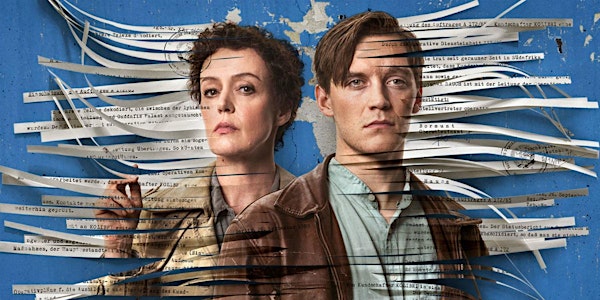 Brooklyn Drive-In: Deutschland 89
SundanceTV, Rooftop Films & BAT present a free screening of the first two episodes of the third and final season of the Deutschland series!
When and where
Location
Brooklyn Drive-In at The Brooklyn Army Terminal 80 58th St Brooklyn, NY 11220
About this event
Date: Sunday, October 25th
Venue: Brooklyn Drive-In at The Brooklyn Army Terminal
Address: 80 58th Street, Brooklyn, NY 11220
7:00 PM: Doors Open & Pre-Show Begins
8:00 PM: Episodes Begin
Deutschland 89
Anna Winger & Jörg Winger | Germany | 99
As Germany reinvents itself for the fourth time in the 20th century, Martin Rauch (Jonas Nay) finds himself in limbo during the peaceful revolution around him, both the existence of the HVA (East German Foreign Intelligence) and the future of his country left uncertain. Martin, pursued by Western spy agencies and the KGB, is determined to finish his last job for his new and mysterious superiors after uncovering a terrorist plot, going undercover to infiltrate an anti-imperialist terror cell. As he tries to bring the perpetrators to justice, he becomes entangled in the schemes of his Aunt Lenora (Maria Schrader) and his new partner in crime, Nicole (Svenja Jung). In the face of a fast-changing world, all our heroes need to reinvent themselves. The third and final season from Creators Anna Winger and Jörg Winger was written by Jörg Winger, Steve Bailie, Roger Drew, Ed Dyson, Michael and Lily Idov. Executive Producers are Jörg Winger, Anna Winger and Sebastian Werninger. Co-Executive Producer is Philipp Driessen, Producer is Daniel van den Berg. Cinematographers are Kristian Leschner (4 Könige, Deutschland 86) and Stephan Burchardt (Song für Mia).
If you can't make it to the screening, tune in to SundanceTV on October 29th for the season three premiere of Deutschland 89!
.........................................
RSVP DOES NOT GUARANTEE ENTRY. IN THE EVENT OF EXTREME WEATHER, SHOW WILL BE RESCHEDULED AT THE SAME LOCATION. NO ALCOHOL IS PERMITTED.
.........................................
FAQs
What kind of ticket should I get?
If your car is over 60 inches in height then you should select an SUV ticket, if it's over 70 inches then you should select an Oversize ticket.
PLEASE NOTE: One ticket admits one car (with up to five guests allowed per vehicle).
How will it work?
Bring your ticket (either printed or on your phone) and our team will check your tickets with a contactless check in scanner, respecting social distancing guidelines. We will direct you to your parking spot, and wait for the sun to set. Our audio is quality FM stereo sound that is tuned directly through your car's FM stereo.
Are there any vehicle restrictions?
To keep the Drive-In safe and fun for everyone, the following vehicle restrictions apply. Not permitted are:
Bicycles
Motorcycles or scooters
Convertibles without roof
Cars with trailer attachments
Passenger Vans (7+ seats)
Buses
RVs
Long wheelbase vans
Can I bring food and drinks?
No alcoholic beverages are allowed, Having an open alcoholic beverage in a vehicle is prohibited in New York State at all times even when a car is parked, and this law applies at the drive-in as well. Feel free to bring your own non-alcoholic beverages and food.
How will parking spots be allocated?
Parking is first come, first served with the exception of larger / taller vehicles that may obstruct the view of cars behind them.
What happens if I am late?
If you arrive later than 15 minutes before for the screening start time (for instance, 8:15 for a 8:30 start), you may miss the mandatory Drive-In safety briefing and may not be allowed to enter.
What COVID-19 Measures Have Been Taken?
Our guests and our team's safety is our primary concern at the Drive-In. You will find an overview of the COVID-19 measures we will implement in our COVID Safety statement. These include social distancing for both guests and staff, regular cleaning of all facilities, and contact-free check-in. All attendees and staff are required to wear a mask whenever they are not in their vehicle, but masks are not required while attendees are in their vehicles. You will also be reminded of the mandatory safety measures via email and on-screen. With the exception of trips to the bathroom, we ask you to stay inside your car and keep the windows on the passenger side of the vehicle closed. If you drive a convertible, please close the roof before you enter the Drive-In site and keep it closed until after you have left.
For the complete Brooklyn Drive-In FAQs page, please click here!
If you are in need of assistance or have any questions during the screening please call or text this number: (718) 417-7362