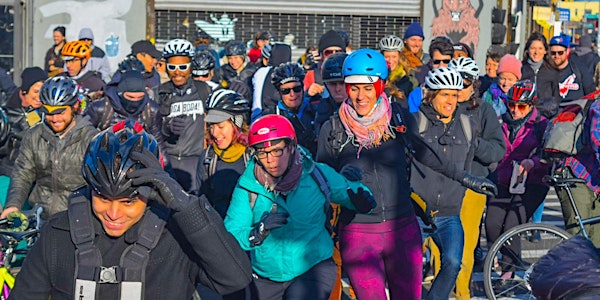 Brooklyn Cranksgiving 2022
Cranksgiving is a family-friendly food drive on wheels that is part bike race and part scavenger hunt. Ride solo or with a group!
When and where
Location
Principles GI Coffee House 139 9th Street Brooklyn, NY 11215
About this event
Cranksgiving is a food drive on wheels that is part bike race, part scavenger hunt that started in Manhattan in 1998 and now happens in cities all across the world. Brooklyn Cranksgiving began in 2016 so 2022 marks its 7th anniversary. Come be part of the fun!
This year's ride will be similar to last year's format to ensure that we maximize the impact of the donations our community partners receive. Instead of visiting supermarkets to buy food to donate to charity, participants will cycle around Brooklyn, stopping at various checkpoints where they'll have to snap a picture and upload to social media or complete a fun task or trivia question.
Riders will be able to donate money to support Hattie Carthan Community Garden and the food justice/sovereignty work they're doing in central Brookklyn. $20 is recommended but you can bring as much or as little cash as you like. Please bring cash, as electronic donations may not be possible (we're hoping to enable donations via PayPal). There is no fee to participate but if you are able to bring cash to donate to charities, we highly encourage this.
Each checkpoint offers an opportunity to accumulate points and recognition will be given for those with the most points, best costume, most creative Instagram post, first family to finish, most generous donor/rider, etc. There may or may not be prizes, depending on how much time our volunteers have to secure them.
The ride is open to ALL riders of all skill levels and casual riders are encouraged to attend. You can come as a group or do the ride on your own. We'll also do our best at the registration to pair up individuals who arrive alone but want to ride with a group. It's possible to do the ride on CitiBike though some of the checkpoints may fall outside of the CitiBike area.
Online registration (via Eventbrite) is required and you can get more info and stay updated by following us on Instagram @brooklyncranksgiving.
The ride starts at 12:30pm but we encourage riders to arrive by 12pm so they have time to review the rules, plot out their route, and ask questions. There will be bathrooms at the start and at the end of the ride.
Costumes are not required but they are encouraged and many riders make homemade Thanksgiving-themed hats or attire. There may be a prize for best costume.
By participating in this event, you agree to our waiver, which can be found here.