Event Information
Location
Williamsburg, Brooklyn, NY
Description
Brooklyn Comes Alive is a one-day, indoor music festival that brings some of the world's greatest musicians to the heart of Williamsburg, Brooklyn. The multi-venue event will host hand-selected super groups, on-the-spot jam sessions, and once-in-a-lifetime collaborations, starting with brunchand ending in the wee hours of the night. Taking place on October 22, 2016, the event will span three of Brooklyn's most popular venues -- Brooklyn Bowl, The Hall at MP, and Music Hall of Williamsburg -- all within a 10 minute walking radius.
Inspired by the vibrant musical communities of Brooklyn and New Orleans, we've put the focus on the artists, bringing over 50 musicians together, allowing them to create their own groups and concepts, and encouraging new collaborations with a spirit of community - so expect the unexpected. Our lineup includes members of Dead & Company, The String Cheese Incident, The Disco Biscuits, Joe Russo's Almost Dead, Lettuce, Soulive, Medeski Martin & Wood, Snarky Puppy, and many, many more.

Purchasing a ticket to Brooklyn Comes Alive gets you a wristband that allows access to three venues: Brooklyn Bowl, Music Hall of Williamsburg, and The Hall at MP. Wristband-holders can come-and-go from all three venues throughout the event, jumping back and forth to catch their favorite bands. (Note: Some venues may reach capacity, so make sure you arrive at your most desired sets early to ensure a spot, although you'll will always be guaranteed a spot at one of our venues).

Music starts at noon at The Hall at MP, which will host a brunch both inside The Hall, and at the adjoining restaurant MP Taverna, featuring a unique dining experience from Michelin Star chef Michael Psilakis. Don't worry - If you're eating at the restaurant, we'll be pumping live concert audio into the dining room so you can jam out while you eat. If you get hungry later in the evening, MP Taverna will also be open for dinner.

After brunch, Brooklyn Bowl and Music Hall of Williamsburg will open up in the early evening, and all three venues will remain open all night long.

Both The Hall at MP and Music Hall of Williamsburg are 18+ venues, while the Brooklyn Bowl is strictly 21+. If you are between the ages of 18 and 21, you are welcome to purchase a ticket, however you will not be allowed access to the Brooklyn Bowl.
Artist Line Up:

Joe Russo (Joe Russo's Almost Dead)
Oteil Burbidge (Allman Bros/Dead & Co.)
Aron Magner (Disco Biscuits)
Marc Brownstein (Disco Biscuits)
John Medeski (Medeski Martin & Wood)
Jason Hann (The String Cheese Incident)
Adam Deitch (Lettuce/Break Science)
Robert Walter (Greyboy Allstars)
Scott Metzger (Joe Russo's Almost Dead)
Kofi Burbidge (Tedeschi Trucks Band)
Alan Evans (Soulive)
Jay Lane (Primus/Ratdog)
Neal Evans (Lettuce/Soulive)
Eric "Benny" Bloom (Lettuce)
Jesus Coomes (Lettuce)
Tyler Coomes (The Knux/Ne-Yo)
Adam Smirnoff (Lettuce)
Ryan Zoidis (Lettuce)
Roosevelt Collier
Michael League (Snarky Puppy)
Skerik (Primus/Garage A Trois/Critters Buggin)
Todd Stoops (RAQ)
Reed Mathis (Billy & The Kids/Tea Leaf Green)
Borahm Lee (Break Science)
Natalie Cressman (Trey Anastasio Band)
James Casey (Trey Anastasio Band)
Chris Bullock (Snarky Puppy)
Nate Werth (Snarky Puppy)
Nikki Glaspie (Nth Power)
Nate Edgar (Nth Power)
Bennie Rietveld (Santana)
Nick Cassarino (Nth Power)
Courtney J'Mell Smith (Nth Power)
Manic Focus
Will Bernard (Stanton Moore Trio)
Tim Palmieri (Kung Fu)
Rob Compa (Dopapod)
Eli Winderman (Dopapod)
Adrian Tramontano (Kung Fu)
Rob Somerville (Kung Fu)
Holly Bowling
Brasstracks
Fareed Haque (Garaj Mahal)
Cochrane McMillan (Tea Leaf Green)
Andy Hess (Gov't Mule/The Black Crowes)
Eric Slick (Dr. Dog/Adrian Belew Power Trio)
Dan Edinburgh (The Stepkids)
Jen Durkin (Deep Banana Blackout)
Johnny Durkin (Deep Banana Blackout)
Rob Marscher (Matisyahu/AGP)
Samora Pinderhughes
Raul Pineda
Farnell Newton
Danny Sadownick
Showcase Sets:
RIPE
Organ Freeman

Artists-At-Large:
Brandon "Taz" Niederauer (School of Rock)
Elise Testone (American Idol)
Supergroups:
The All Brothers Band: Oteil Burbridge, Kofi Burbridge, Neal Evans, Alan Evans
[Br]eaking [Bi]scuits: Adam Deitch, Borahm Lee, Marc Brownstein, Aron Magner
Reed Mathis and Electric Beethoven
Joe Russo, Scott Metzger, Robert Walter, & Andy Hess
DRKWAV: John Medeski, Adam Deitch, & Skerik
The Nth Power Presents Earth, Wind & Power ft. Oteil Burbridge, Kofi Burbridge, Natalie Cressman, Skerik, The Shady Horns, Farnell Newton, Danny Sadownick
Jason Hann's Rhythmatronix
A Tribute To J Dilla: Borahm Lee, Nate Edgar, Adam Deitch, Adam Smirnoff, Stu Brooks
Tim Palmieri & Friends: Dan Edinbugh, Jen Durkin, Rob Somerville, Alan Evans
Natalie Cressman Presents: Nikki Glaspie, Will Bernard, Chris Bullock, Benny Rietveld, Samora Pinderhughes
The Coomes Brothers Ft. Jesus Coomes, Tyler Coomes, Adam Smirnoff & The Shady Horns
Roosevelt Collier's NY Get Down Ft. Eli Winderman, Rob Compa, Adrian Tramontano
Manic Focus & Friends
Brooklyn Comes Alive is Rain or Shine and does not offer refunds.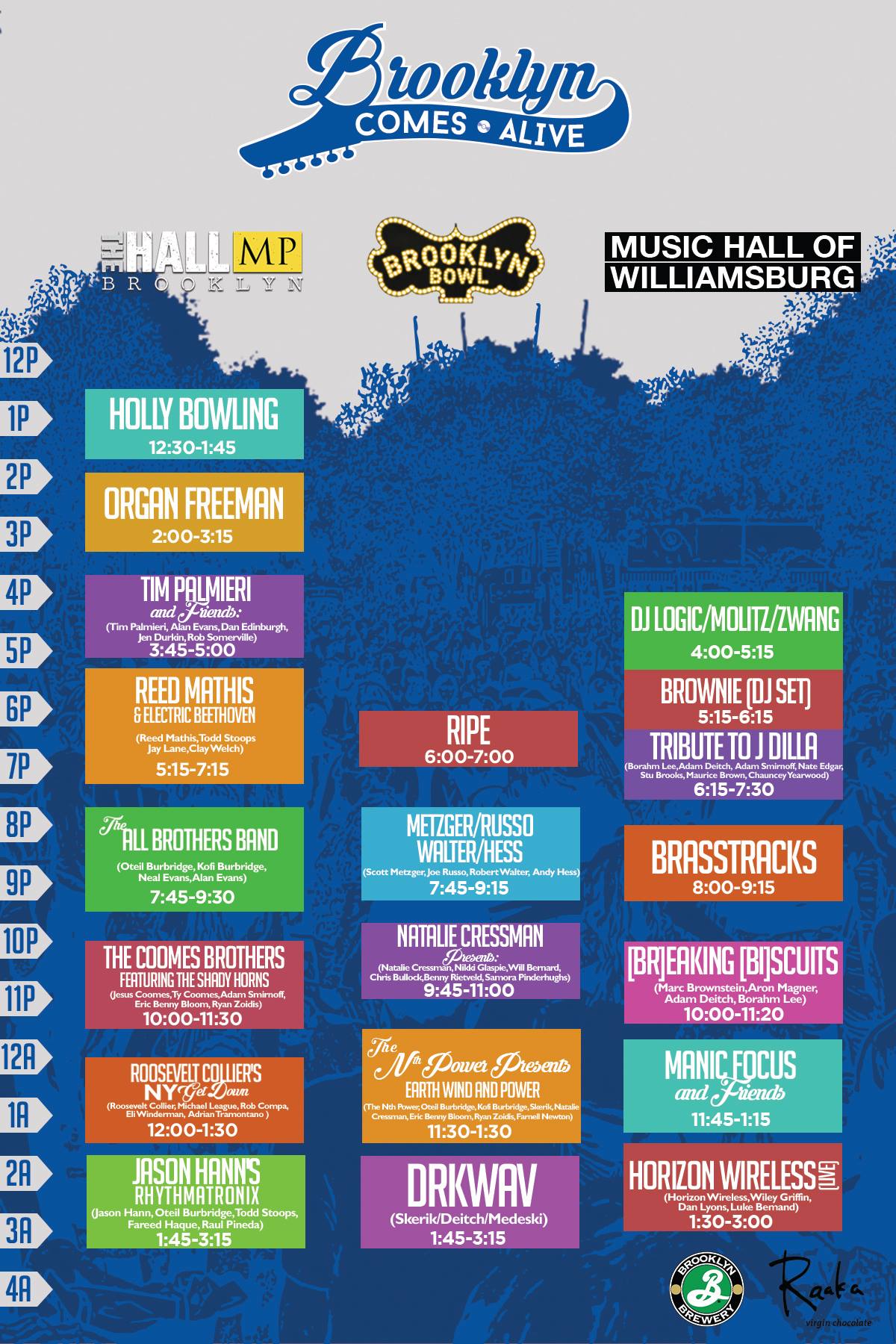 Date and Time
Location
Williamsburg, Brooklyn, NY