Brooklyn Castle

Thursday, March 27, 2014 from 6:30 PM to 9:00 PM (EDT)
Event Details
March 27, 2014, 6:30 p.m.
Regent Theatre, Arlington, MA 

The National Institute for Student-Centered Education (NISCE) and Schools for Children, Inc. (SFC), are proud to present "Brooklyn Castle" the fourth film in our "REAL FILMS: Bringing Focus to the Student" series.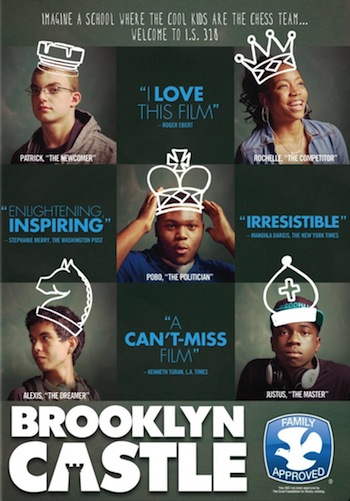 "Brooklyn Castle" tells the stories of five members of the chess team at a below-the-poverty-line inner city junior high school that has won more national championships than any other in the country. The film follows the challenges these kids face in their personal lives as well as on the chessborad and is much about the sting of their losses as it is about the anticipation of their victories.  
Ironically, the biggest obstacle thrust upon them arise not from other competitors but from recessionary budget cuts to all the extracurricular actitivies at their school.  
Brooklyn Castle shows how these kids' dedication to chess magnifies their belief in what is possible for their lives. It shows how much children can thrive if they work hard, are believe in and encouraged, and how much public school can accomplish with their students. 

After the film, Melina O'Grady, Ed.M., Education Consultant, will reflect on the film's message and lead a discussion with the audience. Melina has over 20 years experience working with youth and youth programs in Boston and San Francisco, focusing her work on arts education, adjudicated youth, girls programming and afterschool education. She founded and ran the non-profit Bay Area Teen Voices, a youth media and journalism project for girls, and coordinated a youth worker credential program with Boston After School and Beyond. Currently, she is consulting as a management coach, trainer, researcher and writer.
See film's trailer and learn more about NISCE and Schools for Children.
____________________________________________________________________________________
Film Awards
____________________________________________________________________________________

For more information about the Film Series or becoming a sponsor, please contact Alyssa Kierkegaard at alyssak@nisce.org. 
Press inquiries, please contact mtringali@schoolsforchildreninc.org. 
When & Where

Regent Theatre
7 Medford Street
Arlington, MA 02474


Thursday, March 27, 2014 from 6:30 PM to 9:00 PM (EDT)
Add to my calendar
Organizer
National Institute for Student-Centered Education (NISCE), an initiative that was launched by Schools for Children, aims to catalyze grassroots support for a vision of education where students—not politics, not tests, not expediency—are at the center of learning, and where all students have the opportunities, and resources they need to succeed.