About this Event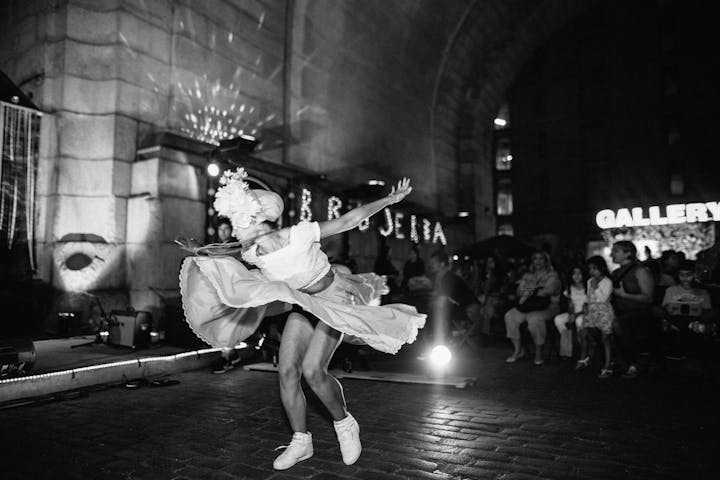 Chiquita Brujita Presents:
Brooklyn Brujeria // The Festival
Saturday + Sunday September 14 + 15 2019
Founded by Chiquita Brujita as an act of resistance and performance art, Brooklyn Brujeria has grown to include the production of an annual public drumming, market, and joy-raiser — Brooklyn Brujeria: The Festival.
In response to the atrocities impacting immigrant, refugee, and asylum seekers both near and far from Brooklyn, this year's festival will honor the strength and resilience of Brooklyn's immigrant youth, with proceeds and donations benefiting Atlas DIY, a local grassroots non-profit.
*********
Day 1 // A Day of Brooklyn Brujeria
DUMBO Archway// Sept 14 // 2:00PM - 9:00PM
155 Water Street, Brooklyn NY
All Ages // Free to the People // Rain or Shine
\\ Featuring //
Drum + Dance
Sabine Blaizin // (OyaSound)
Exu // (Brooklyn Brujeria)
Poets
Tarot + Astro
Jordan Catherine Pagán (Ostara Apothecary)
Featuring magic makers from Brooklyn best apothecaries and micro-botanicas including:
Beauty from the Garden, Bread x Butta, Bombazo Dancewear, Brujita Skincare, Cards by De, Chiquita Brujita, Hell Notes for Beauty, The Homegirl Box, Human Head Records, Luni Style, Nature Freak, Sense the Experience, Soul Things Botanica, La New Yorkilla, NuevaYorkinos, Ser Paraiso, Smiley Goods, Ultraviolet NYC + more!
Night 1 // Brooklyn Brujeria : The After Party
Colony 274 // Sept 14th // 10:00pm - 4:00am
274 4th Avenue, Brooklyn NY
After the Bridge, the party continues with DJ's Riobamba, Sunny Cheeba, and a live performance by Strings n Skins.
+ Late Night Kitchen + Photobooth.
100% of proceeds will benefit Atlas DIY.
Limited Advance Tickets // $12
21+
Day II // A Day of Decolonized Wellness
Sunday, September 15th // All Day
Various Locations across Brooklyn
In the spirit of supporting the healers and spaces that hold Brooklyn down 365 days a year, please find your way to one or many of these establishments on Sunday Sept 15th to enjoy a magical experience at Black + Brujx + POC owned business.
Registration and fees may vary.
10:00am - 11:30 am // Sunday Service Yin Yoga ( First Come First Served)
10:00am - 4:00pm // Acupuncture + Massage + Apothecary (By appointment)
Cosmic Arts Loft + Record Shop
1:00pm - 6:00pm // Record Sale + Open Decks
2:00 - 4:00pm // Join Emilia Ortiz (Ethereal.1)+ Lynsey Ayala of Bread x Butta for their signature Flow 20 guided meditation and workshop experience.
(Tickets on sale 9/1/19)
4:00- 6:30pm // Finding Self, Finding Love Workshop with Reina Prado
6:00pm - 8:00pm // Magic Hour Happy Hour. Enjoy cocktails in Brooklyn's prettiest lounge - complete with Selfie-ready yellow patio and garden.
8:00pm - 2:00am // Rhythm Section Sundays with DJ Mickey Perez
********************
Joy is an act of resistance.
For more info visit: www.brooklynbrujeria.org