Brooklyn Brewery Dinner with Garrett Oliver

Wednesday, September 11, 2013 from 7:00 PM to 10:00 PM (EDT)
Event Details
Please join us at L'Apicio to welcome Brooklyn Brewery Brewmaster Garrett Oliver as he pairs eight of his beers with four courses on September 11th at 7pm. Executive Beverage Director Joe Campanale will also be there to help guide you through the pairings. Tickets are $95, tax and gratuity included, or $108 with a copy of Oliver's The Brewmaster's Table.
Menu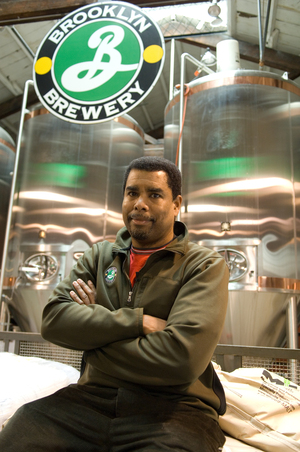 ***
Reception: Silver Anniversary Lager
***
Grilled Endive chillies, raddicio, pecorino
Arancini sausage, fontina, sage
Fluke Ceviche melon, chilies, lime
Sorachi Ace and Ama Bionda
***
Tajarin w/ Mushrooms
Calamarata spicy sausage ragu, broccoli rabe
Pork Meatball Polenta with tomato, bacon, parmesan
The Companion 2011 and Ama Bruna
***
Branzino seasonal vegetables
Pork Chop
Tuscan Fries
Market Vegetables
Crochet Rouge "Riesling Lees" 2010 and Cuvée La Boîte
***
Assorted Dolci
Black Ops 2012
About Garrett Oliver
Garrett Oliver is the brewmaster ofThe Brooklyn Brewery, editor -in-chief of The Oxford Companion to Beer, author of The Brewmaster's Table , and one of the foremost authorities in the world on the subject of beer. Garrett Oliver began brewing professionally at Manhattan Brewing Company in 1989 as an apprentice. He was appointed brewmaster there in 1993. He soon became widely known both here and abroad for his flavorful interpretations of traditional brewing styles and as an avid andentertaining lecturer and writer on the subject of beer.
Garrett has hosted more than 800 beer tastings, dinners, and cooking demonstrations in fourteencountries, writes regularly for beer and food-related periodicals, and is internationally recognized as an expert on traditional beer styles and their affinity with good food. In late 1994, Garrett joined The Brooklyn Brewery as brewmaster. Many of his beers have won national and international awards. He has served as a judge for the competition of the Great American Beer Festival for twenty years, and has been a perennial judge for the prestigious Great British Beer Festival competition and The Brewing Industry International Awards. He has hosted tastings and talks for many cultural institutions, including the Smithsonian, MassMOCA, the American Museum of Natural History, the National Geographic Society and The Jewish Museum. In the United States, Garrett has made numerous radio and television appearances as a spokesman for craft brewing.
Garrett has hosted beer tastings and dinners at many fine restaurants, cooking schools, and food events including several dinners at James Beard House, Eleven Madison Park, Per Se, Craft NYC, Oceana, The Waldorf -Astoria, Gramercy Tavern, Aubergine (London), Noma (Copenhagen), the Slow Food Cheese Festival and Salone del Gusto in Piemonte, Italy, Restaurant Roberta Sudbrack (Rio Di Janiero), Restaurant Julia (São Paulo), Anthony's (Leeds), Cape Wine 2006 (South Africa), The Association of Westchester Country Club
Chefs,The American Institute of Wine and Food, The Culinary Institute of America, the Sommelier Society of America, The French Culinary Institute, The Institute for Culinary Education, Johnson & Wales University and the 2008 GEL Conference.
Garrett was a founding Board member of Slow Food USA and then later served for five years on the Board of Counselors of Slow Food International. He was also a 2009 and 2010 finalist for the James Beard Award as "Outstanding Wine or Spirits Professional." Garrett's first book, The Good Beer Book, co-written with Timothy Harper, was published in 1997 by Putna
m/Berkley Books. In 2003 he authored The Brewmaster's Table: Discovering the Pleasures of Real Beer with Real Food. The Brewmaster's Table was the winner of a 2004 International Association of Culinary Professionals (IACP) Book Award and was a finalist for the 2004 James Beard Foundation Book Awards. The Brewmaster's Table was released in a paperback edition in May of 2005 and remains in print.
His lat est book is The Oxford Companion to Beer (OCB), published in October, 2011 by Oxford University Press. Compiling the vast knowledge of 166 experts in 24 countries, covering 1,120 subjects, The Oxford Companion to Beer is the most comprehensive book ever published on the subject. Only nine weeks after its publication date, the OCB had risen to #8 on the Amazon list of overall books, had sold out four printings and headed into a fifth. Amazon.com named the OCB one of the "Best Books of 2011" . Calling the OCB "a treasure trove", the New York Times said "The Oxford Companion to Beer is a definitive resource not just for beer enthusiasts but for amateur brewers, professional brewers and the thousands of restaurants that serve great beers but are staffed by people who may know little about them.
Garrett is a graduate of Boston University, and holds a degree in Broadcasting and Film. He is the recipient of the 1998 Russell Schehrer Award for Innovation and Excellence in Brewing
, granted by the Institute for Brewing Studies. It is the highest award given within the United States brewing profession. He is also the recipient of the 2003 Semper Ardens Award for Beer Culture (Denmark) and Cheers Beverage Media's "Beverage Innovator of the Year" Award for 2006. In 2007, Forbes named him one of the top ten tastemakers in the country for wine, beer and spirits.
*All ticket sales are final.
Have questions about Brooklyn Brewery Dinner with Garrett Oliver?
Contact L'Apicio
When & Where

L'Apicio
13 East First Street
New York, NY 10014


Wednesday, September 11, 2013 from 7:00 PM to 10:00 PM (EDT)
Add to my calendar
Organizer
L'Apicio
Opened in the fall of 2012, L'Apicio gets its name from the 18th century Italian cookbook, bringing Epicurean Group's modern Italian-inspired food to the East Village in addition to a thoughtful cocktail and wine program. L'Apicio is open for dinner seven days a week featuring a spacious bar area and outdoor seating, in addition to the main and private dining rooms.
Brooklyn Brewery Dinner with Garrett Oliver