Take the Art Tour virtually on Zoom or in person at participating galleries in Bronzeville!
About this event
Join us for the Bronzeville Art Tour, December 17, 2021 See the schedule below.
The virtual tour begins at 7 pm. CST
You can now choose to have your tour virtual or in person. Due to Covid-19 there will not be a physical trolley this year. Please plan to drive, bike or walk to the open galleries. Thank you.
Due to the changes in the City of Chicago COVID19 requirements, mask indoors are required for all attending.
Virtual Experience: To enjoy the evening virtually, please see the links below. You can visit any of the galleries, art institutions or studios and experience the amazing art and entertainment you would find on our in person trolley tour. You can pop in and pop out and visit for as long as the presentation is available.
In Person Experience: You can experience the tour in person at the following galleries:
Blanc Gallery - virtual only 6 pm to 8 pm
Gallery Guichard - in person and virtual 6 pm to 9 pm
Faie Afrikan Art Gallery - in person and virtual 6 pm to 8 pm
Bronzeville Artist Lofts - not open
South Side Community Art Center - virtual only 6 pm to 8 pm Center will be closed
We look forward to seeing you again this Friday for the 2021 Bronzeville Art District Art Tour each 3rd Friday July through December.
Sponsored by:
Join AARP Illinois
Visit the virtual Bronzeville Art District Art Tour through the links provided here.
Links are subject to change. Please check before the event.
Gallery Guichard:Virtual and In person galleryguichardarttour
Faie Afrikan Art: In person only
South Side Community Art Center: South Side Community Art Center
Bronzeville Artist Lofts - See below
Phantom Gallery: https://bit.ly/PhantomGalleryChicago
Raymond Thomas Studio: https://us02web.zoom.us/j/81383967153
Allen Emerson Hicks: https://bit.ly/AlanE_HicksTour
Your tour RSVP grants you access to a celebration of Chicago Cultural traditions by Gallery Guichard, Building Community Foundation, AARP,
RSVP AT: The same Bit.ly/bronzevillearttour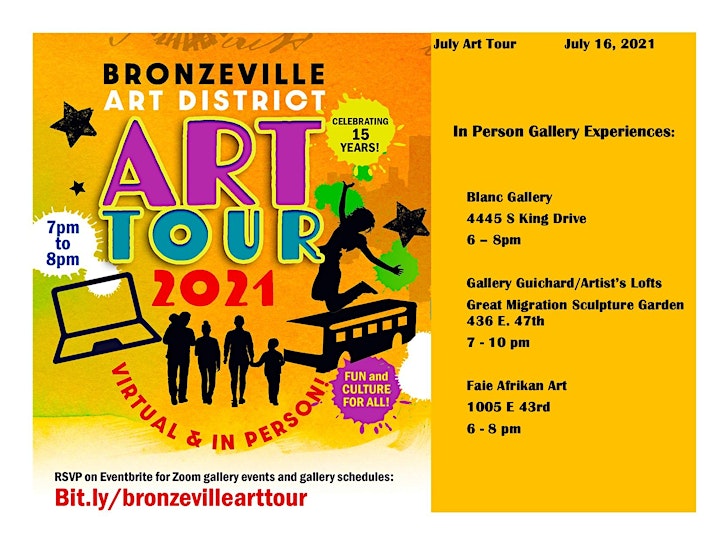 Organizer of Bronzeville Art District Virtual & In Person Art Tour 2021!
Located on the first floor of the Bronzeville Artist Lofts, Gallery Guichard features a rotating collection of works from numerous global artists including Abiola Akintola, Stephen Olalekan, Alpha Bruton, Andre Guichard, Marlene Campbell, Roger Carter and more.
Commanding as much respect as Michigan Avenue in the community, owners Andre Guichard, Frances Guichard and Stephen Mitchell, opened the gallery in 2005 with the mission to expose patrons to multicultural artists specializing in the African Diaspora. Through fine art exhibitions, experiential events, and art tours, Gallery Guichard gives emerging underrepresented talent an opportunity to develop their imagination and creativity.
Proud to be part of the largest African American Artist District in the country, featuring the Bronzeville Art District Third Friday Trolley Tour, with 6 galleries, art institutions and multiple artist studios.