The Bronx River Reservation is a picturesque backdrop along this paved trail located immediately adjacent to the Bronx River Parkway.
About this event
Our new walk (thank you Ken and Loredana) is 14.5 miles of a beautiful trail starting in the Bronx and ending at White Plains. A great opportunity to challenge yourself with options to shorten the mileage if you choose and catch a train back to the Grand Central Station at several points. Walk the whole thing and meet at the end for a celebration as always - location TBA.
Transportation to the Start: Subway Line #1 to Van Cortlandt Park-242 St. (Last Stop) 
The exit is at the front of the train. After the turnstiles, turn right and then take the stairs to your left. You will be on Broadway. A few steps ahead of you, there will be a bus stop. We will be after the bus stop - near the Park's public restrooms (across the street from a Burger King)
Some of the train stations close the Bronx River Pathway: Metro-North Railroad's Harlem Line: Bronxville at mile 6.2; Tuckahoe at mile 7; Crestwood at mile 8; Scarsdale at mile 10.7; White Plains 14.5
Return Trip: Metro-North Railroad's Harlem Line from White Plains to Grand Central Station.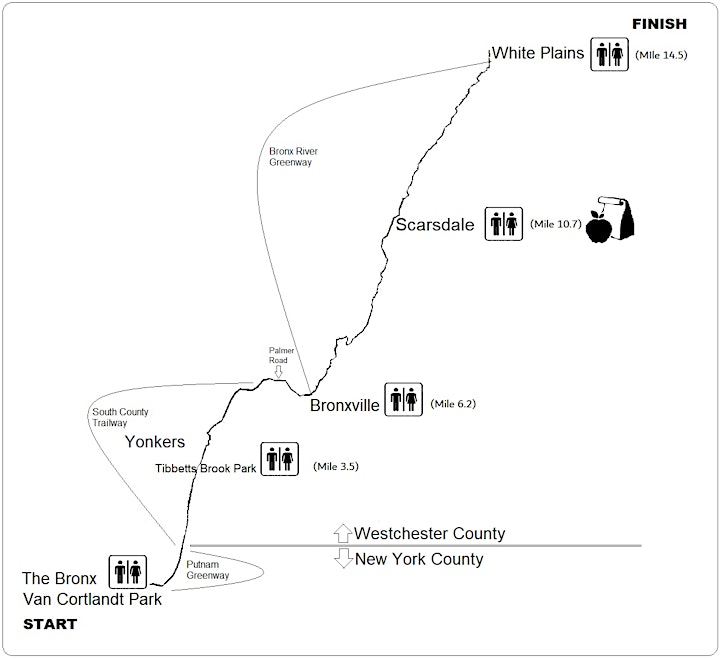 Organizer of Bronx River Trail: The Bronx to White Plains
FreeWalkers is a non-profit 501(c)3 social organization and network for individuals interested in participating in distance walking events. Our group is free and open to everyone. We encourage each member to accomplish challenging goals as we work together, experience, and promote pro-pedestrian issues. Paricipants accept responsibity for themselves on the walk.