Sales Have Ended
Ticket sales have ended
We want to offer YOU the best training possible! In helping us do that, please take a moment to fill out the Assistant Workshop Survey - which helps us dial in the curriculum. Assistant Workshop Survey https://www.surveymonkey.com/r/ZMHSL5Q Thank you for your registration! -broncolorUSA team
Sales Have Ended
Ticket sales have ended
We want to offer YOU the best training possible! In helping us do that, please take a moment to fill out the Assistant Workshop Survey - which helps us dial in the curriculum. Assistant Workshop Survey https://www.surveymonkey.com/r/ZMHSL5Q Thank you for your registration! -broncolorUSA team
Description

Broncolor Assitant and Digital Tech Workshop with Andy Batt
Join broncolor and pro photographer Andy Batt at Edge Grip Studio for an exclusive hands-on lighting workshop dedicated to the working assistant. The goal of the workshop is to connect the assistants who "make it happen" with advanced hands on training on the best lighting tools available.
This workshop is for the assistant that wants to set themselves apart with a deeper knowledge of professional lighting techniques. Andy will work with a model to showcase different methods and equipment to create a variety of action shots and portraits.
The broncolor assistant workshop is available to working assistants, digital techs, rental agents, and sales staff in the professional photographic industry. Workshop participants will be given an opportunity to have hands on time with the lights and will help craft the lighting setups.
Classes have limited seats and early registration is advised.

Topics to be discussed
Scoro, Pulso and Siros:
Key Operations and Light Control
HS Mode & Fast shutter speeds
Alternate Mode for rapid back-to-back strobes
Duration Control (aka Speed Mode) for freezing action
Deep dive on all menu commands
bronControl app & Siros WIFI
Pulso, Twin Lamp and Siros compared
Troubleshooting and Packing Tips

Lightshapers, Softboxes and Para
Sculpting with P50 & Grids
Shaping with Softboxes
Para: 1 Light with Many Looks
Para: a basic setup and teardown guide
Troubleshooting and Packing Tips
Cost: $25
Purchase includes:
$150 Broncolor Rental Credit @ Edge Grip Studio for assistant
AND $100 additional Broncolor Rental Credit for photographer
Exclusive broncolor Para T-shirt, lunch and delicious craft beer!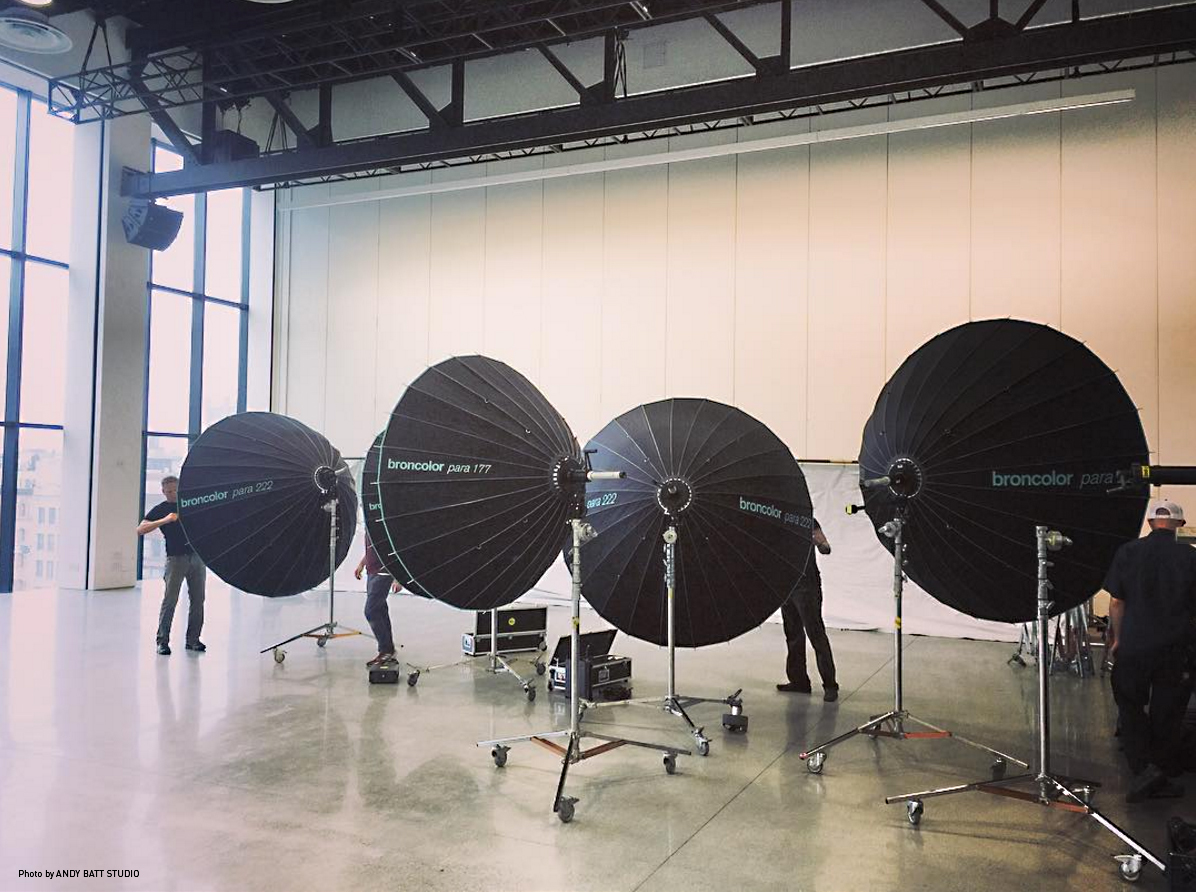 ---

About Andy Batt :: Photographer. Creative. Director.
Andy says "I discovered photography in high school—there was something instinctive and amazing about the whole process of it. That led me to the commercial photo program at RIT, which led me to become a photo assistant. 20 years later, here I am, still having fun being a photographer. Even though the 'what' has changed, my love of photography has not. This is still the best job ever."
Andy's approach to photography is built out of a strong commitment to creating an intersection of image and story. Whether it's working on a large scale project with a huge crew and bigger personalities, or an quiet portrait session in his own studio, his work shows a love for the act of discovery and the creativity of crafting with light. For Andy, it's about using all the tools at his disposal, working with his clients and his subjects to create the best image possible.
Clients have learned that working with Andy and his crew means that the project goes smoothly, on time, and on budget—whether it's traveling to South America, or the South Waterfront of Portland. In 2014 Andy published his first book, Camera & Craft—a photography manual aimed at the inspired amateur.