About this Event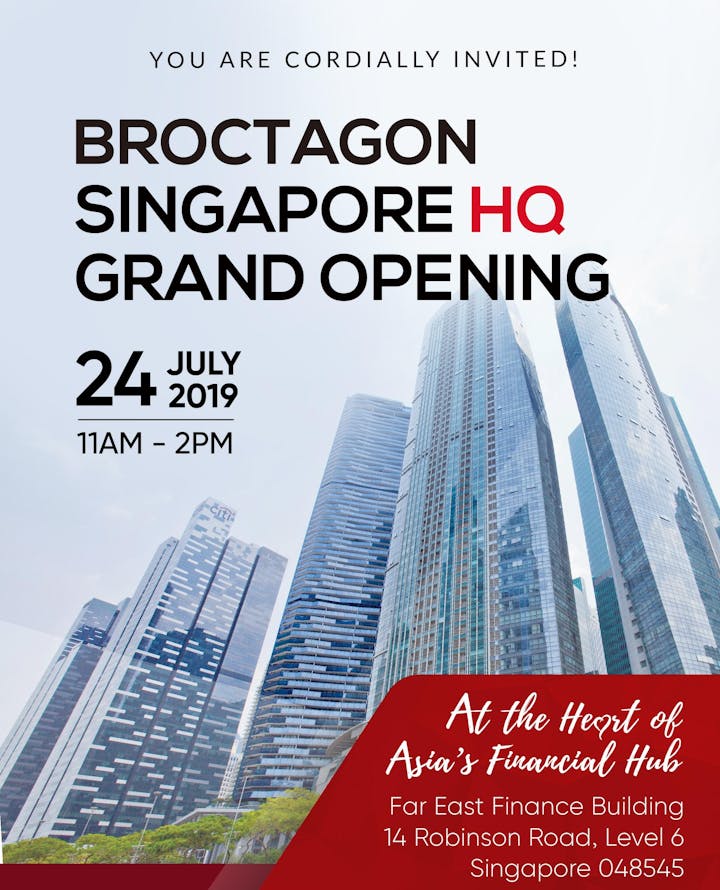 24/7 marks our 10 years of dedication to the financial technology industry, our commitment to excellence and our drive for innovation. As we continue on this embrace of new innovations with the support of established practices, we are delighted to also unveil our new Singapore headquarters in the heart of Asia's financial hub!
Event Agenda:
CEO Opening Address: "Celebrating 10 Years of Fintech Finesse - And Beyond"
"Unveiling the Next Generation of Broctagon Products & Services"
Official Ribbon Cutting Ceremony
Attire is smart casual.
This event is by-invitation-only - please contact us via this link to obtain your ticket: https://broctagon.com/contact/
----------
亲爱的媒体朋友,博亘集团新加坡总部盛大开幕仪式,将于2019年7月24日在新加坡亚洲金融中心核心地带正式启动。
此次我们将邀请国内外知名媒体、知名互联网公司、外汇、金融科技等行业领袖共赴盛宴,共襄盛举!
在这里,你将收获认识业界各人士的机会!
在这里,你将了解最前沿的金融科技知识!
在这里,你将一览新加坡多元文化!
这是一次千载难逢的金融盛典!这是一场绝佳的行业交流契机!
"博梦十载 亘耀启幕"我们在此期待您的莅临!