Brock Long: Emergency Management 2.0
Description
On September 24th, Brock Long, Executive Chairman of Hagerty Consulting and Former Administrator of the Federal Emergency Management Agency (FEMA), Department of Homeland Security (DHS), will join us for the next Distinguished Speaker Series. Discussing his time at FEMA, the community lifelines, FEMA's Strategic Plan, a culture of preparedness, the future of emergency management, and more, Brock will share his successes, challenges, and lessons learned.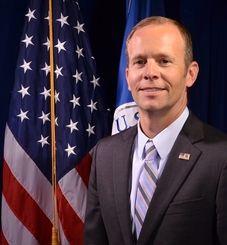 Brock Long, Executive Chairman, Hagerty Consulting; Former Administrator, FEMA, DHS
Date and Time
Tuesday, September 24, 2019
8:00 A.M. – 11:00 A.M.

Event Schedule
Reception: 8:00 A.M. – 9:00 A.M.
Discussion: 9:00 A.M. – 11:00 A.M.

Location
The L.A. Grand Hotel Downtown
333 S. Figueroa Street
Los Angeles, CA 90071

Parking
Free parking will be provided for registered attendees.
Accommodations
Reasonable accommodations or other auxiliary aids and/or services may be provided upon request. To ensure availability, you are advised to make your request at least five or more business days prior to the event. For additional information, please contact: 310-984-3684, Ext. 703