Description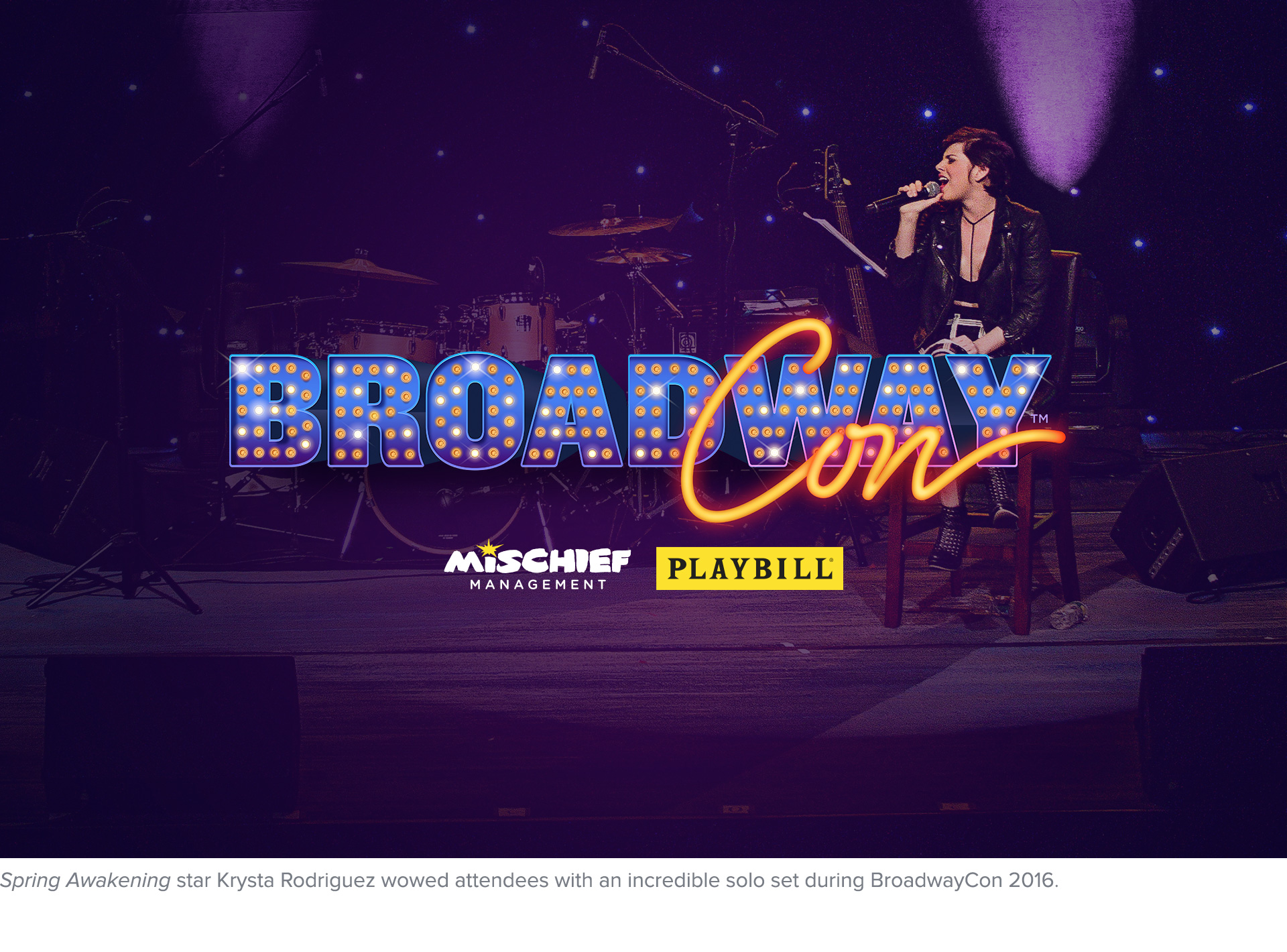 BroadwayCon brings you through the stage door to be part of the excitement that happens onstage and behind-the-scenes. It is a place where Broadway fans come together to celebrate the shows they love with people who bring them to life.
BroadwayCon 2017 will feature panels, performances, interviews, workshops, singalongs, and more, all packed into an epic three-day weekend. In the past our panels have included previews from the next shows to hit Broadway, conversations with the casts and creatives of this season's hits, and discussions featuring the industry's top producers and designers, not to mention the giant opening performance, the nighttime concerts, and the dance parties.
From January 27–29, 2017, join some of Broadway's biggest fans, performers, and creators from classic and current shows as we gather at the incomparable Jacob K. Javits Convention Center to perform, discuss, debate, and celebrate theatre.
View our growing list of special guests.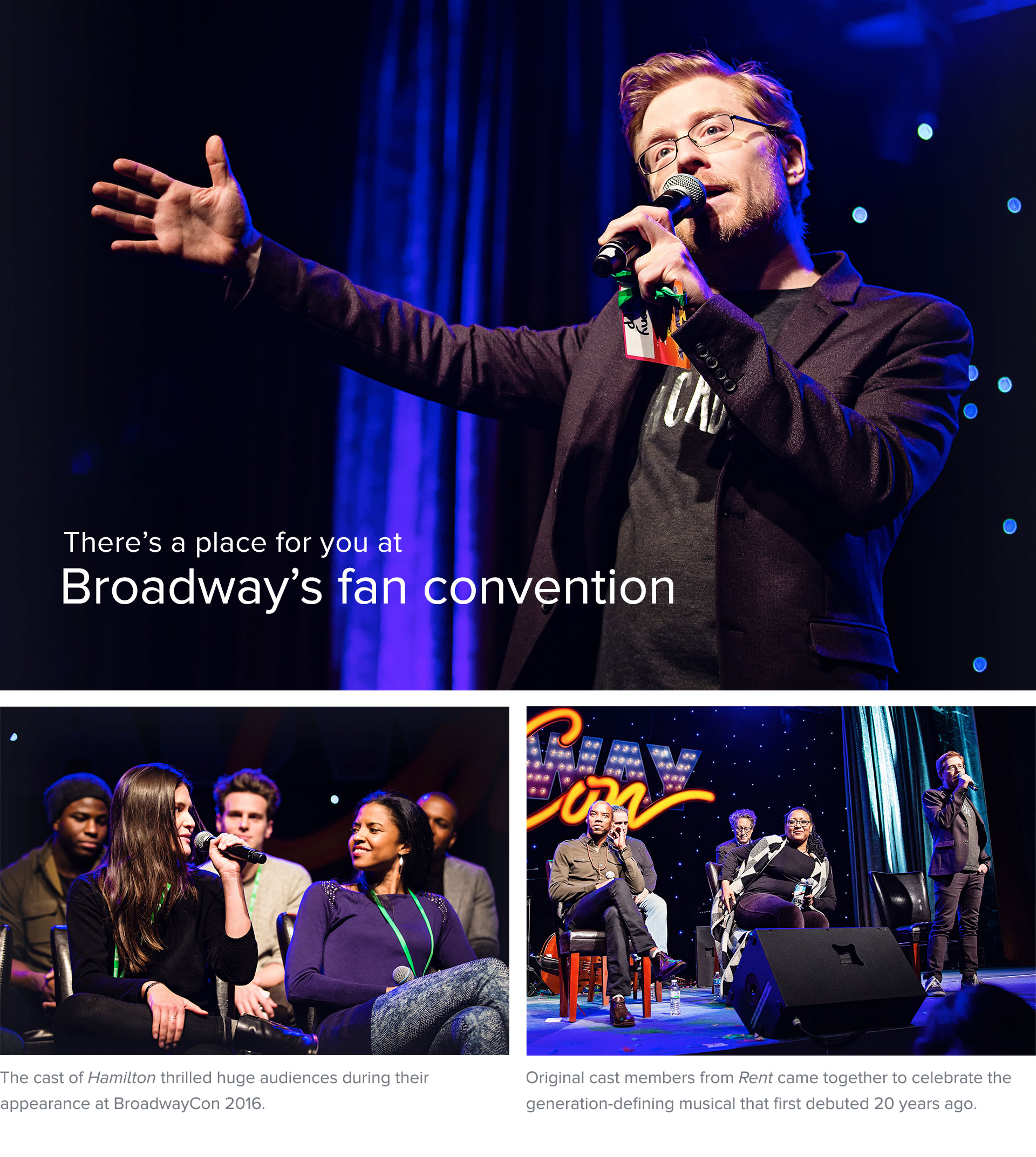 FAQs
Are there any age restrictions to enter the event?
There are no age restrictions for attendees, however, some of our programming may not be suitable for younger children. Our recommended minimum age is 11. (More info)
Are there ID requirements?
In order to check in for the event, you will need to bring a printout of your ticket and a government or school-issued photo ID. (More info)
Is it possible to transfer or upgrade my ticket?
Yes, tickets may be transferred or upgraded by modifying the ticket information. (More info)
What are my hotel/transportation options for the event?
We will be releasing information on our exclusive rates with partnering hotels as well as transportation options soon. Please keep a close eye on our website for more information.
Is BroadwayCon accessible to people with disabilities?
Absolutely! During registration, you will be prompted to give us more information about your specific needs so we can better tailor our services. (More info)
Does my ticket include all BroadwayCon programming?
Yes, your entire BroadwayCon experience is included in the cost of your ticket. (More info)
In order to allow for individualized guidance in workshops, participation requires an application. Applications are due on or before January 6, 2017. Tickets purchased after that date are ineligible for workshops.
Is there a code of conduct?
Yes, of course! You can read it here.
Will there be an opportunity for autographs and photos with special guests?
Please note that the lottery for autographs and photographs with special guests closes on January 9, 2017. Thus, all tickets purchased after that deadline are ineligible for autographs or photographs.
Can I volunteer at BroadwayCon?
Yes, we couldn't have this event without our volunteers team. We love to have theater students and young professionals come help us out. Email volunteers@broadwaycon.com for more info.
More questions?
Email us at help@broadwaycon.com and a member of our customer service team will get back to you as soon as possible.
Please note: While BroadwayCon tickets are transferrable, you should only buy BroadwayCon passes from the official BroadwayCon page. Right here! If you purchase from another source, you risk buying a counterfeit or invalid ticket. BroadwayCon is not responsible for tickets purchased from unofficial sources.
TICKET INFORMATION
Once you purchase, you will receive an order confirmation email from Eventbrite on behalf of BroadwayCon.

IMPORTANT: If you do not see your order confirmation in your inbox, make sure to check your junk/spam folder. If you still do not see your order confirmation, click

here

to access the Eventbrite help center.

If you are having any other technical ticketing-related issues with your order, click

here

to contact Eventbrite. For general info, visit www.broadwaycon.com.

All sales final. No refunds. Upgrades subject to availability.

Event

is rain or shine.

Artists and schedule subject to change.
Organizer of BroadwayCon 2017
The mischief makers at Mischief Management are the purveyors of fan-centric, heart-filled celebrations like GeekyCon, LeakyCon, and BroadwayCon.
Playbill, the exclusive magazine for Broadway and Off-Broadway theatregoers, has been an integral part of the Broadway community for more than 130 years.