Sales Have Ended
Ticket sales have ended
Ticket sales are now closed. Thank you for supporting Fairfield County Children's Choir!
Sales Have Ended
Ticket sales have ended
Ticket sales are now closed. Thank you for supporting Fairfield County Children's Choir!
About this Event
For one night only, the Fairfield County Children's Choir lights up Broadway! Join us on February 27 at 7 pm for "Broadway Our Way." Together but separate, our talented children from 19 local towns will perform an hour-long virtual concert of Broadway favorites that will livestream to quarantine bubbles, families, friends, and far-reaching music fans. Tickets are $30 per household; everyone is guaranteed a front-row seat.
The lights may be off on Broadway, but we promise our choristers will transport you to The Great White Way from the comfort of your home. Highlights include three show-stopping virtual choirs of nearly 300 soaring voices singing "The Greatest Show" from The Greatest Showman, "Happiness" from You're a Good Man Charlie Brown, and "Do Re Mi" from The Sound of Music. Our audience will enjoy talented soloists and two sing-alongs from favorites including Aladdin, The Secret Garden, Newsies, The Last Five Years, Beauty and the Beast, Bring It On, Amélie, Frozen, and Wicked.
Gift idea! Purchase an extra ticket for a grandparent, family, friends, or your FCCC alumni!
If you cannot attend the virtual concert, we welcome your donation to support our non-profit organization. Click the green "Tickets" button and choose to donate.
FAQ
Venue: Online hosted by Eventbrite
Length: The concert is approximately one hour.
Ticket: Ticket price is per household sharing a device. For a family of 4, that is $7.50 per person! Only one household/device can use the unique event link associated with their ticket purchase. If more than one device uses the same "View the Event" link, both devices can be locked out of the concert. Purchase an extra ticket for a grandparent, family, friends, or your FCCC alumni!
Multiple Tickets: When purchasing a ticket as a gift, make sure you use the recipient's email so that they receive their unique concert link. If you use the same email for multiple tickets, multiple confirmations with their own links will come to you to forward to the correct owner. 
How do I watch the FCCC "Broadway Our Way" Concert on February 27th? It's easy! On February 27th, before 7 pm, click on the orange/red "View the Event" button in your order confirmation email from Eventbrite. This button is your link to access the concert.
Eventbrite Specific Questions: https://www.eventbrite.com/support/articles/en_US/Troubleshooting/common-questions-for-ticket-buyers?lg=en_US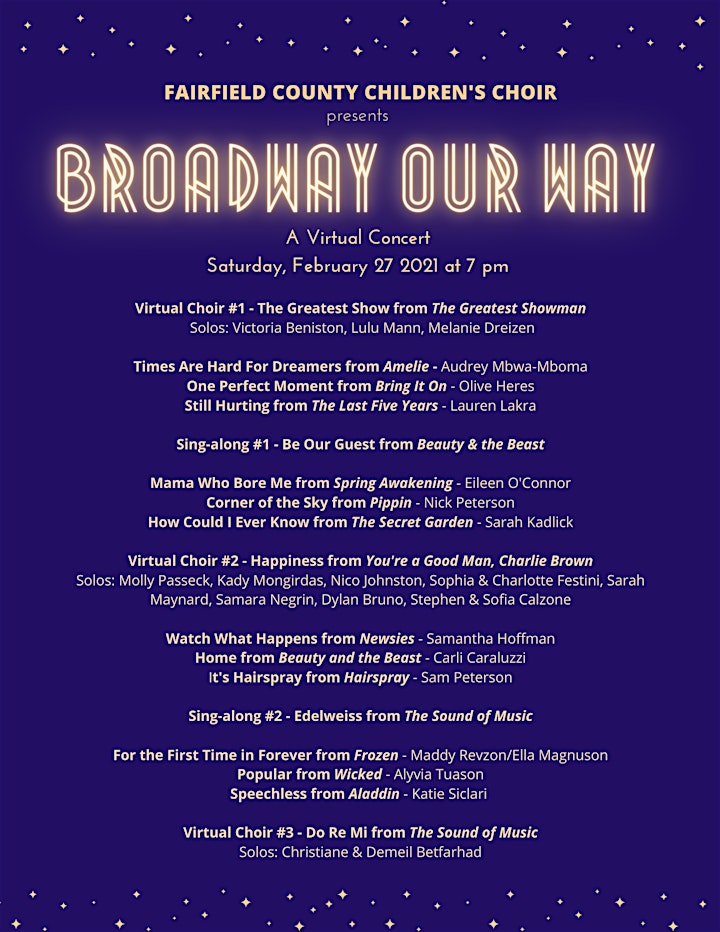 About Fairfield County Children's Choir (FCCC)
The Fairfield County Children's Choir is enjoying our 26th season. Music Director & Founder Jon Noyes conducts the community-based choral program comprising of nearly 300 school-aged children from Fairfield County and beyond, 4th-12th grade. The choir's four tiers: Chorus, Chorale, Concert Choir, and Chamber, allow school-aged children to participate in a musical experience that is challenging, rewarding, and enjoyable. The members learn vocal techniques, choral techniques, music literacy, and appreciation of the music by practicing vocal repertoire.
This award-winning choir performs several times a year locally in Fairfield County, CT; they also perform worldwide. For the first time this year, they will perform a full virtual concert to celebrate the holiday season. Buy your tickets today to witness these marvelous youth and their superb conductors.
To get you excited about our upcoming concert, please enjoy the Fairfield County Children's Choir virtual performance of "Bridge Over Troubled Water," which was viewed over 20K times on social media!