From the stages of the Broadway Comedy Club, Times Square, NYC, comes the off-Broadway Improv Comedy show, EIGHT IS NEVER ENOUGH.
About this event
COME BE A PART OF THE SHOW!!!!
The all professional cast of EIGHT IS NEVER ENOUGH presents hilarious interactive musical comedy improvised based on audience suggestions and participation. We recreate the club magic on ZOOM with high energy. No two drink minimum, but we turn any room of yours into a comedy club.
First Thursday of the Month: LMAO ALL STRS REUNION - Current and past cast mates from the 2009-2011 off-Broadway run under AGVA contract.
Second Thursday of the month: LADIES NIGHT (Pictured above)
Third Thursday of the month: LMAO OFF BROADWAY (PG13 Comedy Akin to our show at most corporate events and colleges.
Other Shows
ABSENT MINDED COMEDY - R-Rated Comedy Uncensored - LATE NITE Comedy programming at clubs and colleges
IMPROV 4 KIDS - Fun for the whole family touring schools, camps, community centers and family events.
ELFPROV - SUNDAYS 3pm Thanksgiving to December - FUN FOR THE WHOLE FAMILY form the North Pole.
Register for free or help us pay these professional artists form stage and screen. ONE REGISTRATION = ONE LOGIN to ZOOM, but the entire household can watch the show. ZOOM link sent before showtime. EMAIL eightimprov@gmail.com for more information.
More from EIGHT IS NEVER ENOUGH Improv
More from the Broadway Comedy Club Times Square, NYC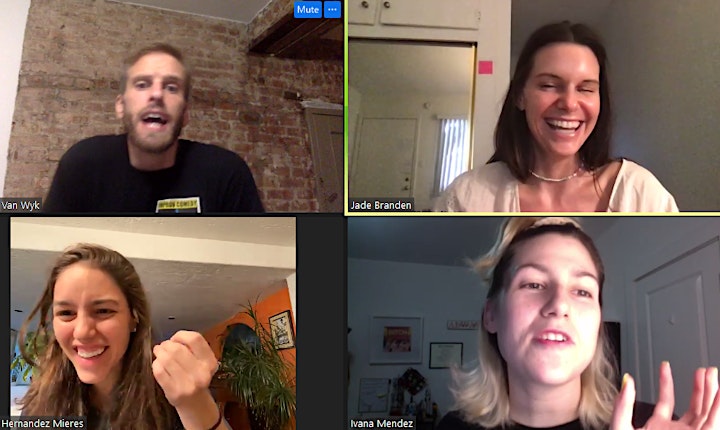 Available for private events!!!
Before the Quarantine life shut down live entertainment, this troupe performed regularly at corporate events (JP Morgan Chase, HSBC, Home Depot, Twitter, Louis Vuitton), colleges (Princeton, Georgetown, NYU, Hoftra), and even educational outreach for K12 schools (NYC DOE VENDOR), camps, family events and community centers. We supply the ZOOM room for up to 90 guests with a show and/or workshop. All you need to do is invite the guests and have some fun!
Corporate Events
Powerful Team Building workshops
College Shows
K12 Schools
Community Events
Family Gatherings
UNBELIEVABLE RATES far below out already low rates for live in person events. No more travel costs to bring this event worldwide!!!!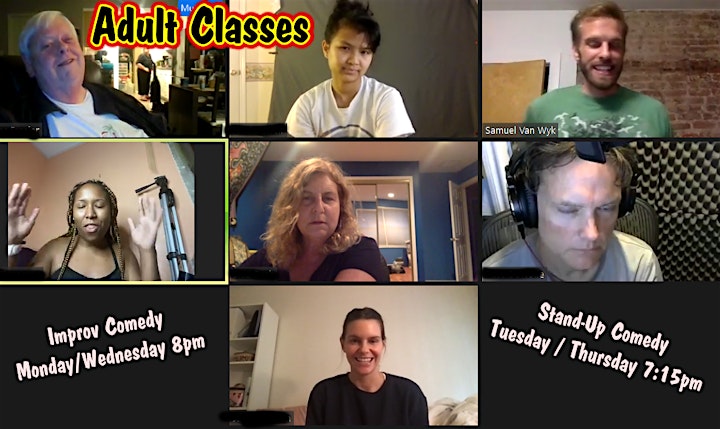 FALL COMEDY CLASS SCHEDULE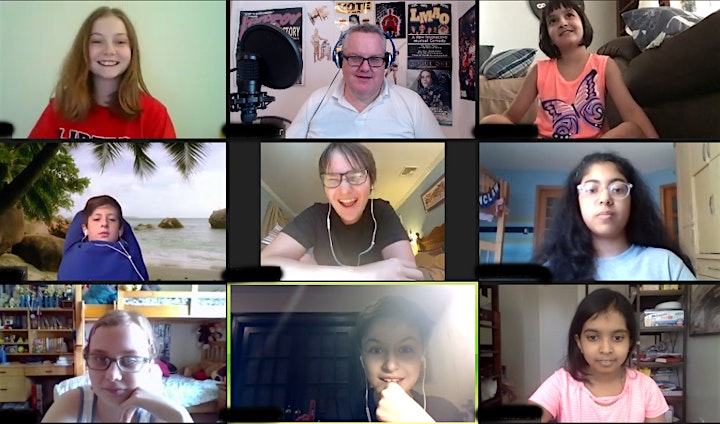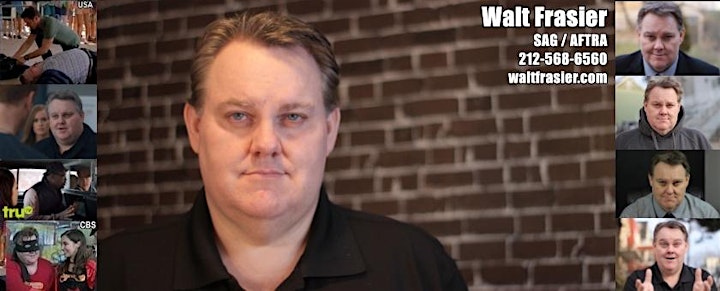 Artistic Director Walt Frasier (Billions, Blue Bloods, Friends of the People, Royal Pains, Lilyhammer, Letterman, MTV etc) co-founded the show in 2002. Since then EIGHT IS NEVER ENOUGH has entertained 7000+ audiences in Times Square and touring nationwide to colleges, corporate events and even K12 schools.
Check out Walt Frasier's Comedy Books on Amazon . Marketed to Kids & Teens and School teachers, these books are valuable resources for any aspiring comic.
Stand-Up Comedy by Walt Fraser is a text book for comics and teachers looking to bring fun creative writing sections into the classroom.
Improv on Zoom by Walt Frasier is a list of games with tips and tricks to play online as well as Improv technique and wisdom.