Description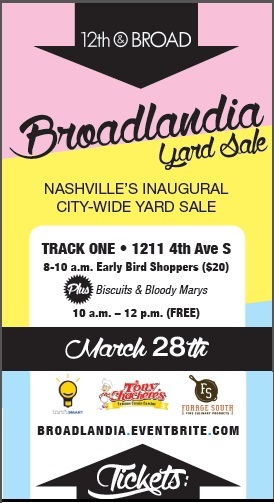 Introducing Broadlandia
Nashville's first citywide yard sale!
When: Saturday, March 28th
Where: Track One, in the Wedgewood-Houston neighborhood
What: 85 curated booths of great Nashville vintage, design, vinyl, home decor and furnishings, thrift and lots more
Cost: Free for general admission or $20 to get first crack at the best stuff
Details:
Love a good hunt?
Imagine a yard sale full of great finds from Nashville's best closets, guest rooms and garages, and so big it takes up an entire warehouse!
Want first dibs on all the goods + a breakfast biscuit and a Bloody Mary?
Then you'll want to buy a Early Bird Shoppers ticket for only $20!
You'll get an VIP shopping experience from 8-10 a.m. before the doors open to the public.VIP ticket includes bloody mary and biscuit!