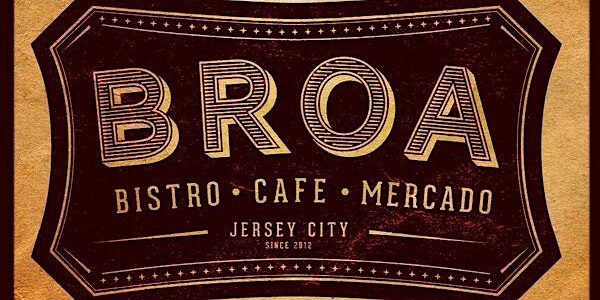 BROA Wine Pairing Dinner
When and where
Location
BROA Cafe 297 Grove Street Jersey City, NJ 07302
Refund Policy
Contact the organizer to request a refund.
Description
Participants will partake in a 6 course Portuguese wine and food pairing dinner hosted by BROA Cafe and the Hoboken Wine Group.
Guests will take home a Spiegelau wine glass that will be provided to them at the dinner.
The menu includes the following 6 courses from land and sea. The wine pairings are from small, independant producers from the best regions of Portugal so expect some to be from the Douro Valley, Lisboa, Dao and Alentejano.
SEE a full recap of the wines at the bottom, each wine is listed with each course below.
1st Course - Cheese Tasting
São Miguel Cheese
Cheese made from pasteurized cow's milk in the Sao Miguel Island (Azores). It is cured during 9 months. Its consistency goes from semi-hard to hard, with a yellowish color.
São Jorge Cheese
is a semi-hard to hard Cheese, produced on the island of São Jorge, in the Portuguese archipelago of the Azores, certified as Demarcated Region of the Cheese of São Jorge and Denomination of Protected Origin.
Topo Cheese
Cow's milk cheese from the island of Saint George aged a minimum of three months with a semi soft texture and a bit of spice to it.
Queijo Fresco
(Portuguese Fresh Cheese) is a favorite in Portuguese cuisine that is very easy to make at home. Queijo fresco is a very light cheese with a lot of moisture that is most similar to Pot Cheese or Farmer Cheese. This is a delicious dish that has an unbelievably unique texture and flavor that makes it one of the most popular Portuguese foods to eat. It can be made with either cow's milk or goats milk.
WINES:
- Quinta de Chocapalha Arinto, Estremadura White, 2014 Vintage (average retail $12)
- Joao Portugal Ramos Vila Santa 2012 Vintage, Alentejo Red Blend (average retail $15)

2nd Course - Sausage Tasting
Portuguese Chouriço
Probably Portugal's most popular sausage. Chouriço is a dry sausage made of pork , very garlicky, red-brown with paprika and its smokiness and deep red color from dried smoked red peppers.
Morcela
Made with a combination of pork bits, pork cheeks and bacon which have been cut into relatively small pieces seasoned with ground pepper (or sweet pepper paste), wine, salt, garlic, and cumin then pig's blood is used as a binder, which gives consistency and dark color. It is smoked in a slow smoking process, at a temperature of 30 to 40 ºC (85-105 °F) for a period of no less than three days.
Chouriço Pata Negra
Essentially the same technique is applied as the Traditional Portuguese Chouriço just using the black footed pig ("black Iberian Pig") that is strictly feed on Acorn blended meals.
Farinheira
A Portuguese smoked sausage made mainly from wheat flour, pork fat and seasonings (white wine, paprika, salt and pepper). Its original recipe did not contain pork fat; it was invented by the Jews during the 15th century to deceive the Portuguese Inquisition by making them believe that they were converted to Christianity by showing they were eating pork.
WINE: Quinta do Passadouro, Douro Red Blend, 2012 Vintage (average retail $20)

3rd Course
Salada de Polvo
An Octopus Salad prepared with the finest wild caught Octopus from the Iberian Coast, cooked to perfection then shocked in ice water. Cut into pieces, it is mixed with red onion, miced garlic, parsley and dressed in a house vinaigrette.
WINE: Quinta do Monte d'Oiro "Lybra" Viognier – Arinto Blend, 2013 Vintage, Vinho Regional Lisboa (average retail $12)

4th Course
"Bacalhau à Lagareiro" (Cod Lagareiro)
This recipe has its origin in Beiras, Portugal. Its name comes from Lagar. Lagar is the portuguese term for olive oil press and Lagareiro referring to the worker of the press. Together with flavourful garlic and "punched potatoes" and Olive oil, this is one of those simple combinations of flavours and textures that is characteristically Portuguese.
WINES:
- 'M.O.B', Moreira, Olazabal & Borges, Dao White Blend, 2013 Vintage (average retail $25)
- Wine & Soul 'Guru' Branco, Douro White Blend, 2013 Vintage (average retail $35)

5th Course
Traditional Portuguese Lamb
WINES:
- Wine & Soul 'Pintas', Douro Red Blend, 2012 Vintage (average retail $80)
- Quinta Foz de Arouce 'Vinhas Velhas de Santa Maria', Vinho Regional Beiras, 2009 Vintage (average retail $50)

6th Course
An assortment of traditional Portuguese sweets.
WINE: Quinta do Passadouro Ruby Port NV (average retail $20)

WINE RECAP
- Quinta de Chocapalha Arinto, Estremadura White, 2014 Vintage (average retail $12)
- Joao Portugal Ramos Vila Santa 2012 Vintage, Alentejo Red Blend (average retail $15)
- Quinta do Monte d'Oiro "Lybra" Viognier – Arinto Blend, 2013 Vintage, Vinho Regional Lisboa (average retail $12)
Quinta do Passadouro, Douro Red Blend, 2012 Vintage (average retail $20)
- 'M.O.B', Moreira, Olazabal & Borges, Dao White Blend, 2013 Vintage (average retail $25)
- Wine & Soul 'Guru' Branco, Douro White Blend, 2013 Vintage (average retail $35)
- Wine & Soul 'Pintas', Douro Red Blend, 2012 Vintage (average retail $80)
- Quinta Foz de Arouce 'Vinhas Velhas de Santa Maria', Vinho Regional Beiras, 2009 Vintage (average retail $50)
- Quinta do Passadouro Ruby Port NV (average retail $20)