Description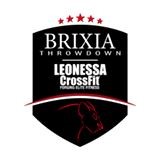 BrixiaThrowdown® nasce nel 2014, da un' idea di Corrado Bafico ed Erika Prestince Coaches e Owners di Leonessa CrossFit, Brescia. Il primo evento ospitò una gara a coppie e riunì diverse realtà locali.
L'anno successivo BrixiaThrowdown® sposò una formula nuova: una gara al mese da Gennaio ad Aprile per accedere alla finalissima di Maggio. Gara avvincente che vide oltre 100 partecipanti e centinaia di spettatori. A gennaio 2015 la competizione prese la sua attuale forma, diventando ufficialmente una team competition, rinnovandosi nel nome e nella forma per divenire Brixia Throwdown® Team Challenge (BXTD), coinvolgendo atleti provenienti da tutta Italia ed alcuni ospiti oltre mare.
Attirando la compartecipazione di partner rinomati quali Reebook, Xenios, GJAV, Compex e Rocktape BrixiaThrowdown® Team Challenge si afferma così come gara a team più importante d'Italia, con un total prize di 10.000,00€, un campo gara di 1.600mq presso il Centro Fiera del Garda a Montichiari, Brescia.
L'edizione 2017 vedrà coinvolti alcuni dei più forti team europei garantendo così una gara ancor più spettacolare sia a livello di show che tecnico. Sarà possibile inoltre, chiedere l'affiliazione al BrixiaThrowdown® e seguire gli eventi #roadtobxtd2017.
EN
BRIXIA THROWDOWN® was born in 2014. The first competition was held in December 2014 as an internal event of the Leonessa Crossfit box with the participation of athletes from neighboring boxes. In 2015 the new and revolution formula has been introduced: the first stage of qualification process consisted of one competition a month from January to April with the final competition held in May. Athletes from all north of Italy participated in this event.
At the end of 2015 the BXTD took its final shape and became an official team competition by introducing the new name and layout. The BRIXIATHROWDOWN TEAM CHALLENGE held in December 2015 attracted more than 280 athletes from all over Italy. The competition was held at the Garda Exhibition Hall of 5000 sq.m. of surface. This competition established the BXTD as the most important athletic event in Italy with the prize award of €10000, the bootcamp of 1600 sq.m., and unseen before affluence of visitors. These achievements became possible thanks to our sponsors and partners, of which Reebok, Xenios, GJAV, Compex and Rocktape.
The great innovation of 2017 will be the introduction of wild cards for a few most strong European athletic teams, the seating tribune and the possibility for the affiliated boxes to participate in#roadtobxtd2017 events.