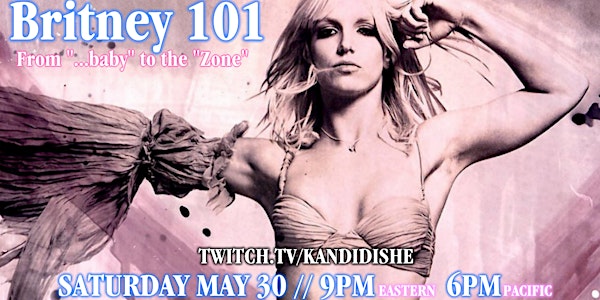 Britney 101: From "...Baby" to the "Zone"
Class is in session, and it's time to learn some Britney 101.
About this event
Part 1 of a multi part series, this show is a retrospective showcasing the singles from Britney Spears first 4 albums "...Baby One More Time", "Oops!...I Did It Again", "Britney" and "In The Zone".
Produced and Curated by Kandi Dishe
Featuring the talents of:
Andy Noel
Danny Drake
E'Nygma
Harley Queen
Jaryd William
Kandi Dishe
Kris Knievil
Lady LaRouge
Lucifer Christimas
Niki Luparelli
Noelle Diamond
Poise'n Envy
Travis Ti
Veronica Vandersnatch
Violencia!
Violet Ultra