Location
Museum of the Jewish People at Beit Hatfutsot
Campus of Tel Aviv University
Klausner Street 15, Ramat Aviv
Tel Aviv-Yafo, Tel Aviv District 6139202
Israel
Refund policy
Refunds up to 1 day before event
Sales Have Ended
Ticket sales have ended
Thank you for your order. Please print our ticket and bring to the program for admission. Valid ID required for soldiers and students with discount tickets.
Description

In partnership with
UK Lawyers for Israel &

IBCA - Israel, Britain
and the Commonwealth Association
and The Israel-Britain Chamber of Commerce
With the generous support of Patrons
Carol Greenwald and Sam and Meryl Solomon
And Friends Barbara and David Wirtschafter

PRESENTS

British Antisemitism
It's Personal: In Politics, On Campus, In Media
Mark Lewis, Leading Media Lawyer
Mandy Blumenthal, British Israel Activist
Hadar Sela, Managing Editor of CAMERA's BBC Watch
Tamara Berens, UK Associate, CAMERA on Campus
Melanie Phillips, Author/Journalist
Moderated by Eylon Levy of i24 News
Date: Sunday 10 February 2019
6:30 PM - VIP Reception
7:3
0 PM - Panel
Entire event will be held in English
Venue: Museum of the Jewish People at Beit Hatfutsot
Tel Aviv University, Klausner 15, Tel Aviv
Cost: 40₪ for the panel
150₪ for the private reception & panel
See ticket information for more options.
Parking is included. For questions or registration assistance, please contact Elyse Fischer at elyse@presspectiva.org.il or 02-625-3949.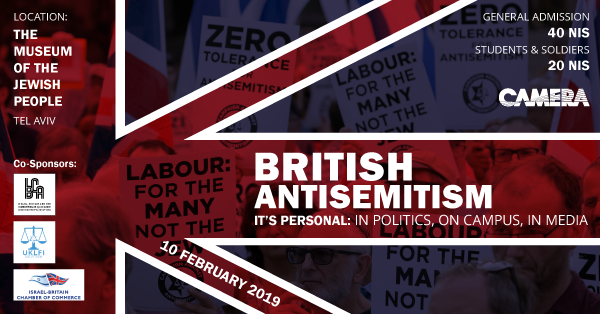 A recent poll showed that an alarming 40 percent of British Jews would consider emigrating if Jeremy Corbyn became prime minister. However, the problem of antisemitism in the country is not limited to one party leader. What are the other factors that fuel antisemitism in the UK and make an increasing number of Jewish Britons feel unsafe? What are the broader dynamics within British politics, on campuses and in the media that contribute to this toxic atmosphere and directly impact the professional and social lives of British Jews?
About our Panelists
Mark Lewis
Despite a glittering legal career engaged in many high-profile libel claims, Mark chose to put his head above the parapet representing Jewish targets defending themselves against antisemitism. The price paid for such outright defiance was a series of abusive comments and death threats, resulting in prosecution and a custodial sentence of the perpetrator. In 2018 Mark and his partner Mandy Blumenthal blocked the London Al Quds March, confronting both the police and approximately 1000 Hezbollah supporters. When asked if he had any regrets upon making aliyah in December 2018, he says, "Only that I didn't leave earlier. Europe, is in my opinion finished for Jews and the wandering people need to wander again."
Mandy Blumenthal
Mandy rose to international prominence in 2014 by challenging former Bradford Member of Parliament George Galloway's declaration that Bradford would be an Israeli free zone. Her efforts ended up with Bradford overruling Galloway, which is now a Galloway-free city. Long concerned about gradually worsening anti-Israel media bias and activities in the UK, Mandy has stared hatred in the face and not been afraid to challenge those who have threatened physical harm. In September 2017, Mandy was physically attacked by about 40 people when she confronted Arab Joint List Member of Knesset Haneen Zoabi, who used a meeting in Birmingham to call for "resistance not just in Palestine, not just in Israel but in the UK as well." She and her partner Mark Lewis made aliyah in December of 2018.
Hadar Sela
Hadar Sela is the Managing Editor of BBC Watch. She was born in the north of England and has lived in Israel for over three decades. She has a special interest in the influence of the media on the British public's perceptions of the Middle East and the Islamist networks operating in the UK and has written pre-emptive reports on several anti-Israel campaigns, including the flotillas and the Global March to Jerusalem in March 2012. Hadar joined CAMERA's UK Media Watch in 2009. In 2012, Hadar founded CAMERA's BBC Watch. Her work has also been published in the Algemeiner, the Commentator, the MERIA Journal and at Harry's Place, among others.
Tamara Berens
Tamara is a CAMERA on Campus UK Associate and 3rd year undergraduate studying at King's College London, reading War Studies. She has interned at the Henry Jackson Society, Policy Exchange and the UK Parliament. She has been quoted in the Jewish News, the Algemeiner, the Jerusalem Post, i24 News and the Jewish Chronicle as part of her role. She was also the 17/18 President of CAMERA-supported society KCL Israel Society.
Melanie Phillips
Melanie is a British journalist, broadcaster and best-selling author. Her weekly column, which currently appears in The Times of London, has been published over the years in the Guardian, Observer, Sunday Times and Daily Mail. She also writes for the Jerusalem Post and Jewish Chronicle, is a regular panellist on BBC Radio's The Moral Maze and speaks on public platforms throughout the English-speaking world. Her best-selling book Londonistan, about the British establishment's capitulation to Islamist aggression, was published in 2006 by Encounter, New York. Her first novel, The Legacy, will be published by Bombardier on April 10 2018.
Moderator
Eylon Levy
Eylon Levy is a news anchor and investigative journalist at i24NEWS. He holds a BA in Philosophy, Politics, and Economics from the University of Oxford and an MPhil in International Relations from the University of Cambridge. He is the English-language translator of the Hebrew bestseller Catch-67 by Micah Goodman, and the forthcoming books War of Return (Adi Schwartz and Einat Wilf) and The Peres Formula (Avi Gil).
About CAMERA
Founded in 1982, CAMERA is a media-monitoring, research and membership organization devoted to promoting accurate and balanced coverage of Israel and the Middle East. CAMERA fosters rigorous reporting, while educating news consumers about Middle East issues and the role of the media. Because public opinion ultimately shapes public policy, distorted news coverage that misleads the public can be detrimental to sound policymaking. A non-partisan organization, CAMERA takes no position with regard to American, British, or Israeli political issues or with regard to ultimate solutions to the Arab-Israeli conflict.
CAMERA's BBC Watch is dedicated to monitoring all coverage of Israel by the BBC - the the largest and hence one of the most influential broadcasting organisations in the world today, with weekly audiences of some 225 million abroad and 97% of the population of the United Kingdom.
CAMERA's UK Media Watch is dedicated to combatting antisemitism and promoting accurate reporting about Israel in the UK media. UK Media Watch prompts dozens of substantive corrections annually at The Guardian, The Independent, The Daily Telegraph, The Economist, Times of London, and The Financial Times.
Founded in 2016, CAMERA on Campus UK provides assistance to students through the CAMERA-Supported Society and CAMERA Fellowship programs. This includes guidance in finding and connecting with speakers or films, planning and creating events, funding for student groups, and addressing Middle East distortions in campus publications, fliers, rallies, and classroom teaching. Students are provided with the support for bravely and publicly defending Israel against hostility and distortions on campus.