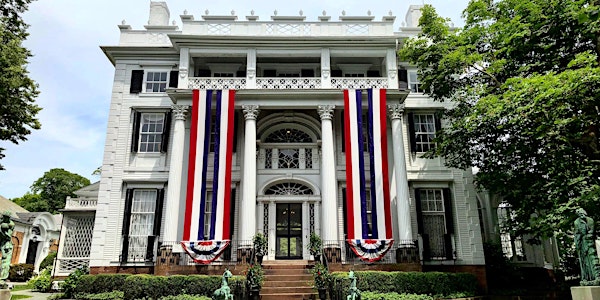 Bristol's Famous Fourth of July Parade at Linden Place's Annual Picnic
Is seeing Bristol's famous Fourth of July Parade on your "bucket list"?
Date and time
Tuesday, July 4 · 7:30am - 4pm EDT
Location
Linden Place 500 Hope Street Bristol, RI 02809
About this event
8 hours 30 minutes

Mobile eTicket
Located at the center of the parade route, there is no place like Linden Place on the 4th of July! On Tuesday, July 4, 2023, Linden Place Mansion, a historic mansion in the heart of Bristol, will host its annual Fourth of July Parade Picnic, a tradition for over 30 years! Picnic-goers will enjoy bleacher-style seating, tables and chairs under the shade of the Linden trees, a continental breakfast and picnic lunch, restroom facilities and plenty of elbow room! Tour the mansion, stroll the gardens and enjoy every moment of Bristol's festive atmosphere. This picnic always sells out so don't miss Bristol's biggest event of the year.
Tickets are $100, $90 for Linden Place Members. Children under 5 are free. Tickets include breakfast and lunch. By attending this event, you will be supporting the restoration of this historic landmark.
Frequently Asked Questions about Linden Place's Fourth of July Parade Picnic
What's included with your Linden Place ticket:
-Reserved seating, both bleacher and restaurant style, at the center of the parade route on the shady front lawn of Linden Place Mansion. Seating is first-come, first served but there is ample seating for everyone.
-Catered Boxed Breakfast from 8am-11am featuring coffee and decaf coffee, juices, Vanilla Greek Yogurt with dried cranberry granola, double blueberry muffin and seasonal whole fruit.
-Catered Boxed Lunch from 11am-1pm, including your chosen sandwich, chips, whole fruit, craft cookie, dill pickle and bottled water and soft drinks.
-The Linden Place Gift Shop will be open for shopping throughout the day! Enjoy discounts offered for our parade guests only! From patriotic themed gifts to Bristol memorabilia and local history books, the gift shop is a great place to stock up on all things Bristol!
-Linden Place Mansion will be open for self-guided tours with our new audio tour app from 8am until the start of the parade. Take a tour through 200 years of history and discover something new inside this amazing home.
-Restrooms – on-site, handicap accessible restrooms are located in the Linden Place ballroom and are reserved for Linden Place guests only.
Parking:
The streets around Linden Place close promptly at 8am. We recommend getting to Linden Place before 8am to ensure ease of navigating and parking nearby.
While there is no on-site parking, there is ample parking on the streets surrounding Linden Place. There is limited parking behind the Colt School next door.
Admission to Linden Place's picnic begins at 7:15am. No earlier. This is to ensure that we are set up and ready to receive our guests!
Tickets:
Tickets are available for purchase through the Linden Place website or in person/on the phone at the Linden Place office.
$55 of each adult ticket is tax-deductible as a donation.
Tickets are non-refundable.
Cancellation due to weather:
The parade might be canceled in the event of a high-level hurricane….maybe. Plan to bring rain gear if rain is forecast and sunblock.
What time does the parade begin?
The parade marchers step off at 10:30am. They typically reach Linden Place by 11:00 am and the parade usually ends about 1:30pm.
With any questions or concerns regarding Linden Place's annual picnic, please contact us at (402)253-0390 or info@lindenplace.org
Happy Independence Day from all of us at Linden Place!