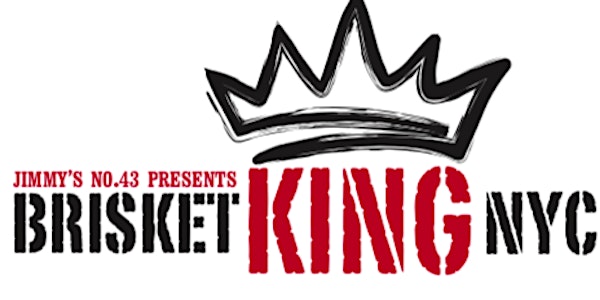 Brisket King® NYC 2021
Brisket King® is an all-inclusive food and beverage tasting event and chef competition outdoors in Gowanus, Brooklyn.
When and where
Location
Pig Beach 480 Union Street Brooklyn, NY 11231
About this event
Brisket King NYC returns for its 9th year!
We are excited to celebrate the 10th anniversary and 9th edition of Brisket King® NYC outdoors at Pig Beach in Gowanus, Brooklyn on April 21, 2021 at 6:00 PM. The all-inclusive event will feature 15 chefs and pitmasters cooking up the juiciest brisket you can find plus craft beer, hard cider and spirits. This will be an outdoor event, rain or shine, and follow all CDC guidelines including social distancing and mandatory mask wearing when not eating. Expect the variety of chefs and dishes you've come to love at past Brisket King events – just outdoors! After the awards are presented, stay for the afterparty and enjoy the food and drink at Pig Beach (not included in admission price). We are thankful for our community partner, Friends of Firefighters, and our venue host Pig Beach. A portion of the net proceeds will be donated to the Jeff Michner Foundation. Please buy your tickets early to support Food Karma Projects and make future events possible.
2021 Participants:
Avellino Family Barbecue: Leland Avellino, Stamford, CT
Award winning pitmaster
Blue Smoke: Bret Lunsford, Manhattan, NY
Carlitos Tacos: Carlos Castillo, Paramus, NJ
2019 Competitor
Chef Jesse Concepts: Jesse Jones, NJ
Author of "Pow! My Life in 40 Feasts"
Friends of Firefighters: Eric Howard and Aaron Clark, NY
FDNY Firefighter, chef and MasterChef Season 7 Top 8 Finalist Eric Howard and fellow FDNY Firefighter Aaron Clark are proud to represent community partner Friends of Firefighters!
Handsome Devil: Ed Randolph, Newburgh, NY
A six-time state BBQ championship award winner, NYCWFF Best BBQ Champion, Food Network CHOPPED champion, North Jersey BBQ Showcase winner and barbecue cookbook author
Hill Country BBQ: Ash Fulk & Seth Gurka, Manhattan, NY
Classic Texas 'cue
Central City BBQ: James Cruse, New Orleans, LA
Award winning pitmaster on the competitive barbecue circuit
Juicy Lucy BBQ: Richie Holmes, Staten Island, NY
The 2019 Brisket King winner is returning to defend the title!
Kimchi Smoke: Robert Austin Cho, Westwood, NJ
2019 People's Choice Winner
Matt Fisher: Formerly of Fletcher's Brooklyn Barbecue, Brooklyn, NY
Winner of Pig Island NYC 2020 "Best Bite"
Morgan's Brooklyn Barbecue: Cenobio Canalizo, Brooklyn, NY
Pulkies: Harris Mayer-Selinger, Manhattan, NY
"What is a food loving NYC jew to do without a smoker?" The answer lies in the fat.
Smokehouse Tailgate Grill: Michael Hofer, Westchester, NY
Queens Bully: Pitmasters Cesar Torres & Abe Reyes, Owners Rohan Aggarwal & Suraj Patel, Queens, NY
Smokin' it up in QUEENS!
**list of chefs subject to change**
PLUS
Beer and cider from Alementary, Bronx Brewery, Indian Ladder Farm, Romily, Original Sin and Austin Eastciders
Cocktails from Long Drink and Volley
Spirits from Knob Creek
Hot sauce tastings from Marie Sharpe's
VIP Tickets ($150 + fee) include an all-inclusive ticket with a one hour head start to taste the brisket and mingle with the chefs before general admission guests arrive plus guaranteed seating, a Brisket King t-shirt and a Cabot Cheese gift basket mailed to you. Only 100 VIP tickets are available and the offer is only good through March 15th.
VIP Tables ($1,250) include 8 all-inclusive tickets, designated seating, early access at 5:00 PM to chat with pitmasters and get the first bites of brisket, Brisket King t-shirts and a Cabot Cheese gift basket mailed to you.
Early Bird Tickets ($55 + fee) include an all-inclusive food and drink ticket at a discounted price for 6:00 PM general admission, discounted price only available through April 1.
General Admission ($60 + fee) include an all-inclusive food and drink ticket for 6:00 PM admission.
No Refunds.
Rain or Shine.
21 and over.
More About Brisket King
You Don't Want To Miss Brisket King 2020, NYC BBQ
Why Brisket King Is So Important to NYC'S BBQ Scene, NYC BBQ