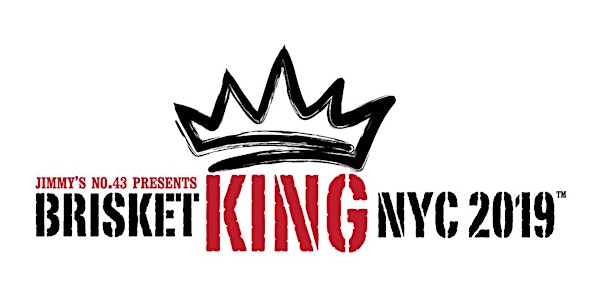 Brisket King NYC 2019 ™
When and where
Location
Biba of Williamsburg 110 Kent ave. At north 8th st. Brooklyn, NY 11249
Description
Brisket King of NYC returns for its 8th year , April 10, 2019 to Brooklyn. 20 chefs, pitmasters. All inclusive craft beer, hard cider, spirits, water.
General admit tickets $85 each plus fees on sale now, event will sell out..
Special VIP tables with 5pm VIP access available.Special perk for VIP tables, NEW 5pm entry to get settled at your table, start tasting during the Judges' session! Vip Table tickets sales end Monday night 4/8 at 11pm.
April 5, updates
This Year's Featured Chefs
Sruli Eidelman, Izzy's Taqueria and Izzy's Brooklyn Smokehouse
This Brooklyn based kosher chef and 2017 Brisket King™ champion is back to compete with a new restaurant, Izzy's Taqueria.
John Gower, Quiet Waters Farm
This UK leader of the wood smoke cooking movement took 2nd place at Brisket King™ 2018 with the help of his NYC team from Fletcher's Brooklyn BBQ. Could he be back for the win?
John Stage and Leland Avellino, Dinosaur Bar-B-Que
Founded in Syracuse, this establishment's original owner, John is back! He'll be making Brisket Tostada.

Matt Abdoo, Pig Beach
The BBQ at this Gowanus, Brooklyn restaurant won 1st place at Memphis in May 2016.
*Pig Beach will also be hosting the Jeff Michner BBQ Benefit on April 13 to benefit this team's former pitmaster.

Ash Fulk, Hill Country Barbecue Market
Hill Country BBQ is the NYC industry standard for Texas Style BBQ Brisket. Happy to have them back for another year!

Angelo Viterale, Ornella Trattoria Italiana
Expect an Italian style brisket Angelo calls Brisket in Salmi.

Corey Cash, Cash Only BBQ
All the buzz in Williamsburg, Brooklyn!

Cenobio Canalizo and Eric Springer, Morgan's Brooklyn Barbeque
This team will be serving pastrami, burn end, and fried pickle.

Jared Male and Jake Klein, Randall's Barbecue
An all star team representing the Lower East Side.

Judd and Bosh, Judd's Memphis Kitchen
Coming to show off their kosher Koji Aged Brisket Bresaola.

Jesse Jones, "POW! My Life in 40 Feasts"
This celebrity chef and author will be bringing his New Orleans influence to the competition.

Mauro Cheifaro, Juicy Lucy BBQ
The former pitmaster at Franklin BBQ in Austin is gearing up for the opening of Juicy Lucy BBQ in Staten Island.

Rob Cho, Kimchi Smoke
This chef will be bringing the heat with Texas-Korean BBQ fusion.
Hudson Smokehouse
New BBQ restaurant in the Bronx.

Bronx Bombers BBQ, Frankie's Tavern
This Bronx based restaurant team won't disappoint.

Smokehouse Tailgate Grill
Bringing great BBQ to Westchester.

Darlene Lawrence, Sands Jerk Hut
Serving Caribbean cuisine in Brooklyn that brings paradise to every bite.

Nicole LaMay, Darling Nikki's BBQ
This queen of BBQ is coming to compete from Philadelphia.

Gentle Giant Brewing & Barbecue
Joining from Rockland County, this team was trained by the Kansas City Baron of BBQ, Paul Kirk – and we'll be sampling their beer as well.
Special Guest Chef: Big Papa Smokem
2019 preview article in @culepi , innovations in brisket!
https://www.culinaryepicenter.com/ethnic-bbq-innovations-fuel-heated-competition/
Where else to crown the King of Brisket than in Brooklyn, nyc?? Kosher bbq meets Texas , MEATS you name it! we got the widest range of top brisket chefs, right here, in NYC! The list of chefs and pitmasters will be posted soon.
Featured chefs and pitmasters for 2019:
Kosher, Izzys Taqueria (Izzys brooklyn bbq won the 2017 brisket k7ng nyc),
and Judds Memphis Grill
Top nyc bbq: Morgan's bbq, Randalls Barbecue, Hill Country bbq, Cash Only BBQ, Dinosaur BBQ, Pig Beach NYC, many more
New Orleans flavor, chef Jesse Jones
Italian- Ornella restaurant
England's wood cooking champ, Quiet Waters Farm John Gowers returns, he was the 2018 brisket king nyc 2nd place winner.
We'll have plenty of Brisket, beer, cider and spirits, plus the option for VIP tables. 20+ chefs will compete for the glory of being our Brisket King NYC 2019!
In years past, there were so many highlights, including all stars from Texas, like Aaron Franklin, John Tesar, and Texas Monthly's Daniel Vaughn, all appearing as celebrity judges. The 2016 and 2017 winners were kosher nyc chefs! , the 2018 winner was cherry street bbq from Toronto, canada!
Changes from last year? This year , we are back at the Williamsburg location with a better, more open layout, and a tented extra area in the back yard. Expect the same great event as years past, we will sell fewer tickets as well.
Here is the list from this past year's 2018 event. Expect more chefs and features in 2019, we will be at a larger venue, too.
our list of the best chefs competing for the crown, Brisket King NYC 2018!
Cherry Street BBQ, chef Lwrence La Pianta , from Toronto, Canada
Hill Country BBQ , chef Ash Fulk, nyc
Randall's BBQ , jared male, newly opening in nyc
Chef John Gower of Quiet Waters Farm , from england, UK, with John Patterson, The Salt Cured Pig
Chef Jesse Jones,with John Sauchelli of Jersey Barnfire Sauce
Dinosaur BBQ Brooklyn
Salt and Bone BBq, queens
El Atoradero, chef Noah Arenstein
Judd's Memphis – kosher
Kimchi Smoke ,Robert Cho
Brooklyn Q, pitmaster Robert Fernandez
Ribs Within collaborating w/ Huntspoint BBQ Eatery and Meat Shop ,
Smokehouse Tailgate Grill , Mamaroneck, ny, pitmaster Eric Johnson
Main House BBQ – kosher
Papa Smokem, chef mario
Sands Jerk Hut
Spirits curated by Gregg Glaser, Modern Distillery Age magazine: last year 2018
Astoria Distilling
Empire Spirits
Frederick Wildman & Sons
Hudson Whiskey
Market Street Spirits
New York Distilling
Craft Beer and Hard Cider
Original Sin cider
Shmaltz Brewery(kosher)
Sixpoint brewery
Austin East Ciders
Bronx Brewery
Lagunitas brewery
and plenty of free Essentia water!
Last year 2018......
Celebrity judges include: Dana Cowin, former editor of Food and Wine magazine, cookbook author Peter Kaminsky, top chef contestant Grayson Schmitz, food writer Nick Solares, Gear Patrol's Bryan Campbell, the "Texas Huntress "Ashley Chiles, cookbook author Donna Gelb, food network's Vivian Chan, author David Rosengarten, .............
general website www.brisketking.com
Here's a great press link about our 2016 and 2017 Brisket King NYC winners, Ari White and Sruli Edelman. the kosher bbq winners so impressed our celebrity texas bbq expert judges, that they went to austin texas and cooked at franklin barbecue. great article by Daniel Vaughn,
https://www.texasmonthly.com/bbq/treif-no-franklin-barbecue/
press, sponsorship contact foodkarma@gmail.com
Cheers to last year's 2017 participants!
Hill County BBQ's Chef Ash Fulk
Dinosaur BBQ
Izzy's BBQ Addiction (2016 Brisket King runner-up)
Catskill Food Company with Jonah Shaw (using beef sourced from Slope Farm)
Mighty Quinn's Barbeque

Ornella Trattoria
Blue Smoke
El Atoradero
Hudson & Charles - Jay Fox
M. Wells Steakhouse
Tchoup Shop's Simon Glenn
Randall's BBQ

Kimchi Smoke Barbecue (Chef Robert Cho)
LOOK by Plant Love House
Pitmaster Robbie Richter
Morgan's BBQ
Butcher Bar
Jimmy's No. 43 with East Village Meat Market
Chef Jesse Jones
Willie B's
More to come...
Co-founder / executive producer Jimmy Carbone (Jimmy's No. 43, Food Karma Projects) . Other co-hosts of the event include Brisket King NYC co-founder Jake Schiffman (The Food Network), Jonathan Deutsch (Drexel University), Annie Hauck-Lawson (Mompost), Mory Thomas (f/o Food Network), Cricket Azima (Kids Food Festival) .
Big shout and thank youto Brisket King NYC 2015, Billy Durney of Hometown bbq who has been such a HUGE supporter of the event the past 4 years. thank you billy and FINN!
The charity partners are Brooklyn Rescue Mission (Community Garden and Food Pantry) and Heritage Radio Network.
all sales are final, no refunds
participants subject to change