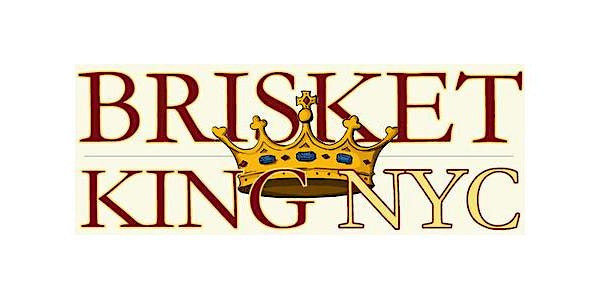 Brisket King NYC 2018
When and where
Location
brooklyn location 110 kent ave , williamsburg 110 kent ave brooklyn, NY 11211
Description
Brisket King of NYC returns for a seventh year to a new venue in Williamsburg! Where else to crown the King of Brisket than in Kings County aka Brooklyn!!? We'll have plenty of Brisket, beer, cider and spirits, plus the option for VIP tables. 20+ chefs will compete for the glory of being our Brisket King NYC 2018!
Update:: Online tickets will sell out. VIP tables are sold out. as of april 20.
Last year, there were so many highlights, including all stars from Texas, like Aaron Franklin, John Tesar, and Texas Monthly's Daniel Vaughn, all appearing as celebrity judges. Even with all the Texas influence, NYC Kosher chefs won for the 2nd year in a row.
our list of the best chefs competing for the crown, Brisket King NYC 2018!
Cherry Street BBQ, chef Lwrence La Pianta , from Toronto, Canada
Hill Country BBQ , chef Ash Fulk, nyc
Randall's BBQ , jared male, newly opening in nyc
Chef John Gower of Quiet Waters Farm , from england, UK, with John Patterson, The Salt Cured Pig
Chef Jesse Jones,with John Sauchelli of Jersey Barnfire Sauce
Dinosaur BBQ Brooklyn
Salt and Bone BBq, queens
El Atoradero, chef Noah Arenstein
Judd's Memphis – kosher
Kimchi Smoke ,Robert Cho
Brooklyn Q, pitmaster Robert Fernandez
Ribs Within collaborating w/ Huntspoint BBQ Eatery and Meat Shop ,
Smokehouse Tailgate Grill , Mamaroneck, ny, pitmaster Eric Johnson
Main House BBQ – kosher
Papa Smokem, chef mario
Sands Jerk Hut
Spirits curated by Gregg Glaser, Modern Distillery Age magazine:
Astoria Distilling
Empire Spirits
Frederick Wildman & Sons
Hudson Whiskey
Market Street Spirits
New York Distilling
Craft Beer and Hard Cider
Original Sin cider
Shmaltz Brewery(kosher)
Sixpoint brewery
Austin East Ciders
Bronx Brewery
Lagunitas brewery
and plenty of free Essentia water!
Tickets: $85 general admit tickets thru april 24th.. tickets will sell out. day of $100 cash only tickets MAY be available subject to availability, the only guarantee is to buy in advance this year. ( limited VIP tables, SOLD OUT)(early bird tickets have ended as of march 15)

Celebrity judges include: Dana Cowin, former editor of Food and Wine magazine, cookbook author Peter Kaminsky, top chef contestant Grayson Schmitz, food writer Nick Solares, Gear Patrol's Bryan Campbell, the "Texas Huntress "Ashley Chiles, cookbook author Donna Gelb, food network's Vivian Chan, author David Rosengarten, .............
general website www.brisketking.com
Here's a great press link about our 2016 and 2017 Brisket King NYC winners, Ari White and Sruli Edelman. the kosher bbq winners so impressed our celebrity texas bbq expert judges, that they went to austin texas and cooked at franklin barbecue. great article by Daniel Vaughn,
https://www.texasmonthly.com/bbq/treif-no-franklin-barbecue/
press, sponsorship contact foodkarma@gmail.com
Cheers to last year's 2017 participants!
Hill County BBQ's Chef Ash Fulk
Dinosaur BBQ
Izzy's BBQ Addiction (2016 Brisket King runner-up)
Catskill Food Company with Jonah Shaw (using beef sourced from Slope Farm)
Mighty Quinn's Barbeque

Ornella Trattoria
Blue Smoke
El Atoradero
Hudson & Charles - Jay Fox
M. Wells Steakhouse
Tchoup Shop's Simon Glenn
Randall's BBQ

Kimchi Smoke Barbecue (Chef Robert Cho)
LOOK by Plant Love House
Pitmaster Robbie Richter
Morgan's BBQ
Butcher Bar
Jimmy's No. 43 with East Village Meat Market
Chef Jesse Jones
Willie B's
More to come...
Co-founder / executive producer Jimmy Carbone (Jimmy's No. 43, Food Karma Projects) . Other co-hosts of the event include Brisket King NYC co-founder Jake Schiffman (The Food Network), Jonathan Deutsch (Drexel University), Annie Hauck-Lawson (Mompost), Mory Thomas (f/o Food Network), Cricket Azima (Kids Food Festival) .
Big shout and thank youto Brisket King NYC 2015, Billy Durney of Hometown bbq who has been such a HUGE supporter of the event the past 4 years. thank you billy and FINN!
The charity partners are Brooklyn Rescue Mission (Community Garden and Food Pantry) and Heritage Radio Network.
all sales are final, no refunds
participants subject to change