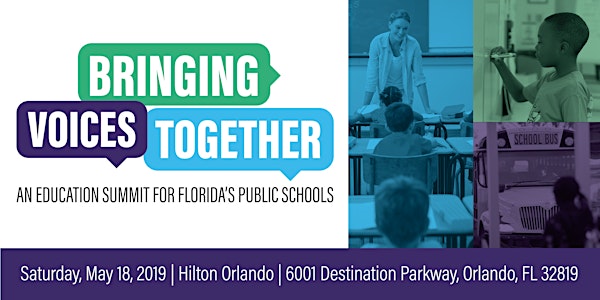 Bringing Voices Together: An Education Summit For Florida's Public Schools
Bringing Voices Together: An Education Summit For Florida's Public Schools
When and where
Location
Hilton Orlando 6001 Destination Parkway Orlando, FL 32819
About this event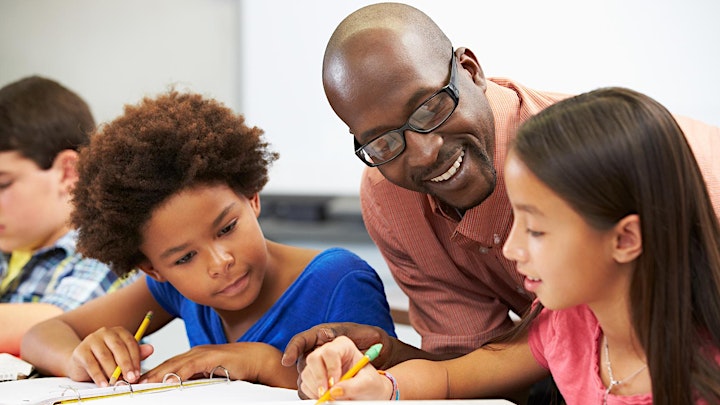 Public Education Needs Your Voice!
Our children need you to take the first step. You can be part of a movement to save and improve our public schools.
Please join your fellow community members who share your concerns about the direction that Florida's education system is taking.
On Saturday, May 18th public education stakeholders will convene in Orlando for an open conversation about the future of education and we need your voice in the room.
Most Americans still believe public education is the path through which their children can gain access to decent jobs and a good life. For the past decade, special interest groups backed by wealthy donors and well-connected lobbyists have been systematically dismantling our public schools.
For financial and political gain, they have pushed policies that created an unsustainable and educationally unsound system of testing, ranking and degrading our schools, our educators and our students.
It is time we use our collective power to reclaim our schools and our future.
Join us. Take that first step and be part of this powerful conversation to shape Florida's future. It is up to us to make sure that the path to opportunity and justice remains open.
Program Preview
This meeting will be an active planning event and will include a working lunch so please plan to commit to the day from 10:00 a.m. – 4:00 p.m.
The Summit is designed to be a DRIVE IN meeting for most attendees, however there is a block of rooms available for Friday evening, May 17th if needed at $122/night.
Please click the hotel link here:
https://book.passkey.com/go/FLedu19
Issues with the booking link should be routed to: 888-488-3509 and the reference code is "FES" for the group.
Florida's Education Summit will be hosted by The World Café foundation.
This is a once in a lifetime opportunity to participate in an exhilarating process that harnesses collaborative dialogue, knowledge sharing and creative thinking to address one of the most critical issues of our time – preservation of our public schools.
It is a surprisingly simple, effective, and flexible format for hosting large group dialogue. It has been successfully used around the world to bring groups – from 10 to 10,000-- together to quickly turn small group conversations into action.
Who should attend?
If you are a parent, teacher, school employee civic or community leader alarmed about the assault on public schools and ready to join forces and do something about it, our children need you.
Too few Floridians grasp the seriousness of the growing attacks on our public schools…. even though nine out of ten K-12 students attend them!
It is time to come together and call for a public awakening.
Whether you have been involved in educational matters for a long time, or are just joining the conversation, we know this event will be enriching, empowering, and inspiring to all of you. We look forward to your attendance.
Education Summit Partners
Thank you to our 2019 Summit Partners:
Alliance to Reclaim Our Schools
Black Women's Roundtable
Equality Florida
Florida Education Association
Fund Education Now
Iniciativa Acción Puertorriqueña
League of Women Voters Florida
NAACP | Florida State Conference
Pastors for Florida Children