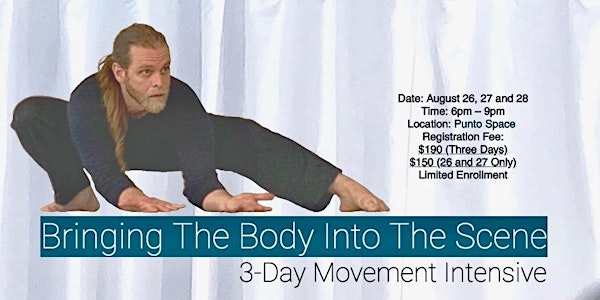 Bringing The Body Into The Scene - 3-Day Movement Intensive
Location
Punto Space
325 West 38th Street
Storefront #3
New York, NY 10018
Description
Three amazing days to focus on teaching the body to learn and expand its vocabulary. Like in speech and writing, the body has its own individual vocabulary, and expanding it is necessary for the artist to be able to fully bring a character into the scene. It's only with a functional, aligned and flexible body that we're ready for action, and reaction. There's so much talk about being in the moment, but what is it if not being engaged in the action? Using a mix of Feldenkrais and Laban Methods, we'll discover our own individual starting points. We'll learn how to break old habits and explore the possibilities of new vocabularies. Using a variation of Meyerhold's Biomechanics, Michael Chekhov's and Stanislavski's Methods, we'll work on opening our bodies to ensemble work and connecting to other actors while on stage, and how to fully pursue the character's objective in the scene.
"My aim is to provide artists with skills that will empower them in their art, as well as in their lives, while creating a safe environment for the discovery of one's method. Above all, my goal is to help develop a crafted actor, who is still excited and curious about the dramatic arts - a happy actor." - Sandro Isaack
BTBITS Three Days: $190 (SOLD OUT)
BTBITS 26th and 27th only: $150 (SOLD OUT)


Discount Code for students and artists working in the hospitality business (email srisaack@gmail.com for details)
---
Limited Enrollment
---
Day 1: We'll start our discovery by assessing our starting points and teaching our bodies to learn, with the Feldenkrais Method. We'll then learn the basics of Laban's 8 Efforts.
Day 2: We'll have a short Feldenkrais warm-up, review Laban's 8 Efforts and learn how to apply it to expand our bodies' vocabularies. We'll follow the exploration of movement quality and engagement with Meyerhold, and then introduce to our discovery Chekhov's and Stanislavski's methods to aid us in the full pursuit of action.
Day 3: After a nice Feldenkrais warm-up, we'll start applying, the previously learned tools, to character development and improv, and how to then bring it into scripted scene work.
Sandro Isaack played Pavel in the four seasons of Amazon Studios', Golden Globe Winner, Mozart in the Jungle. He is a New York based actor, coach and storyteller, and his acting/teaching journey started in Brazil, where most theatre is physical theatre. Sandro has over 25 years of experience as both Coach and Performer, and as a professional union actor has acted in roughly 40 combined professional stage productions (Off-Broadway, Regional and International), as well as TV prime time drama and film. He has taught in the US, Brazil, Italy and Russia.
Sandro Started his training as a dancer and has always been curious and determined to exploring the body's physio-emotional qualities and abilities. He received a MFA from the A.R.T./MXAT Institute for Advanced Theater Training, Harvard University.
contact srisaack@gmail.com for more info
#MovementForActors #PhysicalActor