About this Event
The West Health Institute, a non-profit dedicated to lowering healthcare costs to enable seniors to successfully age in place with access to high-quality, affordable health and support services, is hosting a free, interactive workshop that will provide administrators and professionals an opportunity to learn about best practices in bringing telehealth to post-acute and long-term communities (PALTCs).
Telehealth has been used to proactively address the needs of residents within PALTCs by improving access to care and decreasing unnecessary transfers to hospitals or more acute settings.
Led by a multidisciplinary team, attendees will have a unique experience interacting and learning from leading experts in a non-vendor driven environment. In addition, all attendees will receive a free copy of West Health's new guidebook, "A Practical Guide: Implementing Telehealth in Post-Acute & Long-Term Care."
Attendees will:
Increase knowledge to build business cases, strategic roadmaps and return on investment (ROI)
Attend live demonstrations and test telehealth technologies without sales pressure from vendors
Gain cumulative insight from leading experts on implementing a telehealth program at your organization
Workshop Agenda: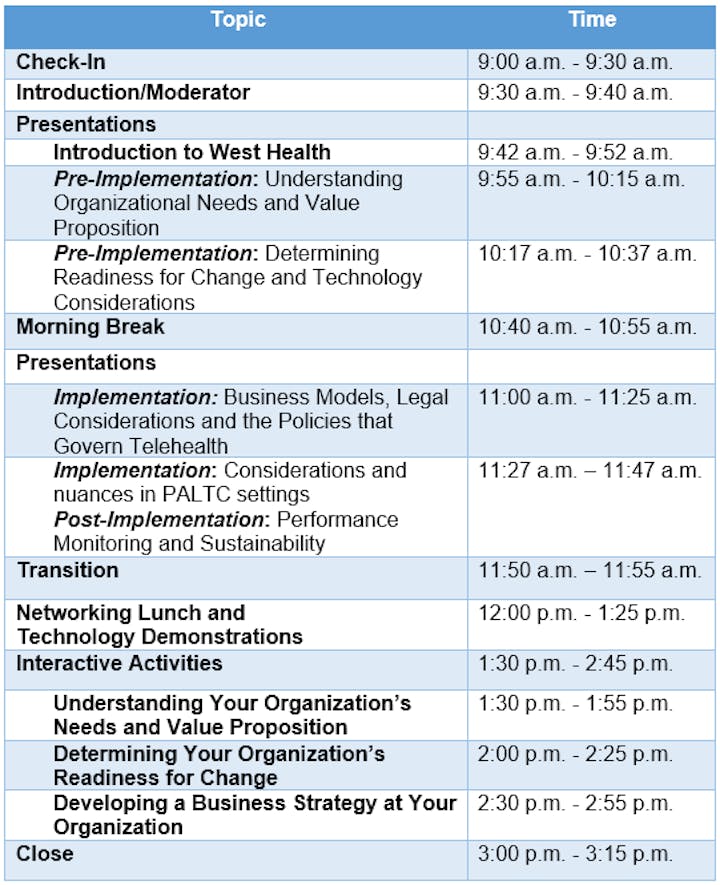 Directions
West Health Institute is located on the corner of Genesee and N. Torrey Pines Road and occupies the entire 10350 North Torrey Pines Road Building.

Parking Instructions
Parking capacity for the event has been reached. Alternatively, we suggest using rideshare options or parking near BellaVista.