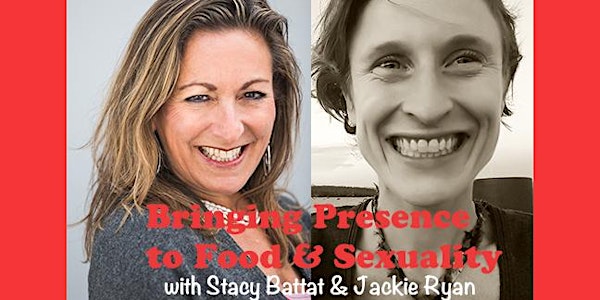 Bringing Presence to Food & Sexuality
When and where
Location
Breathing Room Yoga 817 Chapel Street New Haven, CT 06510
Description
Could you use a little more joy and presence in your relationship to your body and way you treat it?
Jackie Ryan, Certified Integrative Nutrition Health Coach and Yoga Teacher, and Stacey Battat, MA, team up to help you transform from a place of not feeling connected, wholesome and happy about your experiences of food and sexuality, to a place of making powerfully authentic choices that align with your true values and desires.
Jackie will teach you how to let go of compulsive or unconscious eating habits, by introducing presence practices that bring light and joy to the yoga of eating. Stacey will take you on a journey to open pathways to explore your sensations, body image and sexual desires in a playful and lighthearted approach to mindful living. Together, we will explore the connection between food and sexuality and how to give yourself a luxurious experience of life by honoring yourself in these areas.