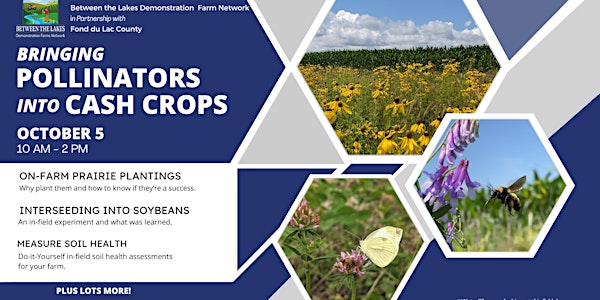 Bringing Pollinators into Your Cash Crops - Field Day at Greendale Farms
Join us for a field day learning about agricultural practices to bring pollinators into your cash crops.
About this event
Map to Event Location:
Farm address: W3102 WI-23 Trunk, Fond du Lac, WI 54937
Map (copy and paste into your internet browser): https://go.wisc.edu/greendalefarms-22
Event Schedule
10:00 Welcome – Paul Tollard and Cory Drummond
10:10 -10:25 – My Experiment With Inter-Seeding a Cover Crop Species Into Soybeans. Dale Theel
10:25-10:30 – Group Walk to the Prairie Strip
10:30-10:40 – Why Did I Plant a Prairie Strip on My Farm? - Dale Theel. Dale will also discuss how the prairie strip was established.
10:40-11:00 – How Do You Know if Your Prairie Planting is a Success? Identification of Plants in the Prairie Strip - Melanie Kalmerton
11:00 – 11:30 – What You Need to Know to Successfully Establish a Prairie Strip/Pollinator Planting – Greg Baneck
11:30-12:00 – Measuring Soil Health on Your Farm – Do-it-Yourself In-Field Soil Health Assessments – Split into 3 groups, each led by a NRCS Conservationist / Scientist. Led by Joe Smedberg.
12:00 -12:45 – Lunch -Tables will be provided for standing while eating. Bring your own chair if you'd like.
12:45 – 1:05 – Update on UW Interseeding Research - Hannah Francis or Anne Pfeiffer
1:05 – 1:30 – Inspection of Cover Crop Inter-Seeding Plots in 30" and 60" Twin Rows. Explanation by Dale Theel and Zach Laughlin. Dale will have his interplant drill and seed spinner on site for discussion
Optional field inspections on your own. Field locations and topics to be announced at event.
*Note: There are beehives present at this field day. Use caution if you have allergies.*
___________________________________________
Event Tickets/Registration
Tickets are free, but they help us know how much food to order. Please REGISTER by signing up for tickets through this event page.
For questions or alternative way to register: (608) 590-5758 or maranda.miller@wisc.edu
Registration closes September 28th at Midnight.
___________________________________________
Event Sponsors
This event is hosted by Between the Lakes Demonstration Farm Network, in partnership with Fond du Lac County.
Additional contributors include; Dale Theel of Greendale Farms, University of Wisconsin Extension, Natural Resources Conservation Service (NRCS).