Bringing Broadband Adoption to the Nation's Underserved Populations

Tuesday, July 17, 2012 from 8:00 AM to 10:00 AM (EDT)
Event Details
You are invited....
to an event of the Broadband Breakfast Club
http:broadbandbreakfastseries.eventbrite.com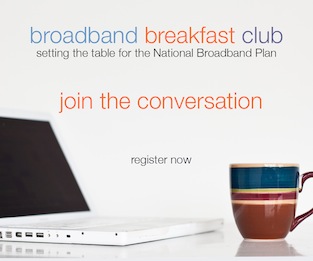 Bringing Broadband Adoption to the
Nation's Underserved Populations
Only 69 percent of Americans have broadband internet connections at home. What vital services are the other one-third missing? And what can be done to promote broadband usage? A range of governmental, corporate and foundation efforts will be discussed – including the Federal Communications Commission's Broadband Lifeline and the Connect to Compete programs.
Telecommunications advocates, policy-makers, journalists, top officials and the general public, all seeking to trade insights on these important issues, are invited to attend this event of the Broadband Breakfast Club, which includes full American and Continental breakfasts, for as little as $45.00, plus a modest registration fee.
This event is on the record and open to the public. 
For News and Events on BroadbandBreakfast.com follow us at http://www.twitter.com/broadbandcensus
Event Details
Title:  Bringing Broadband Adoption to the Nation's Underserved Populations
Date:  Tuesday, July 17th, 2012  8 a.m. - 10 a.m. 
Where:  Clyde's of Gallery Place, 707 7th Street NW, Washington, DC 20001
The breakfast begins at 8 a.m., followed by a discussion, beginning shortly after 8:30 a.m. and ending by 10 a.m.
Panel:
Amina Fazlullah
Policy Counsel
The Benton Foundation
Amina focuses on telecommunications policy at Benton, and in the past year has specialized in issues related to broadband deployment and the modernization of the Universal Service Fund. Fazlullah also monitors the Federal Communications Commission, Federal Trade Commission and Department of Justice Antitrust Division with respect to telecommunications consumer issues. She received her J.D. from the University of Minnesota Law School and her B.A. from Pennsylvania State University. She served as an extern with the Honorable Chief Judge James M. Rosenbaum of the United States District Court of Minnesota, and she also has experience working as a law clerk at the FCC's Office of Strategic Planning and Policy Analysis.
Cheryl A. Leanza
President
A Learned Hand
Cheryl A. Leanza is the President of her consulting firm, A Learned Hand, LLC, www.alearnedhand.com.  In this capacity she serves as policy advisor to the United Church of Christ's historic media advocacy arm and as the Co-Chair of the Leadership Conference of Civil Rights Media & Telecommunications Task Force.  Her other clients have included the Progressive States Network, National Federation of Community Broadcasters, Future of Music Coalition, Public Knowledge, and Native Public Media, among others.  Ms. Leanza helped to lead the victorious effort to pass the Local Community Radio Act, and has been a leader in public interest advocacy for more than 15 years, including advocacy for diversity in media ownership, protection for children in media, and other policies furthering First Amendment principles, including open Internet.  She has represented non-profits before the Federal Communications Commission and in the U.S. Appellate courts, and has been widely quoted in the trade and mainstream press on these issues. Ms. Leanza's prior positions include a stint as Principal Legislative Counsel for telecommunications at the National League of Cities where she was lead lobbyist for local elected officials during the period when Congress was debating changes to local cable television franchising laws.  She also spent six and one-half years as Deputy Director of Media Access Project. Ms. Leanza is a cum laude graduate of the University of Michigan Law School and the Ford School of Public Policy and teaches Georgetown University's Department of Communications, Culture and Technology.
Sonya Murray
Chief Program Officer
Connect2Compete
Sonja Murray, Chief Program Officer, Connect2Compete and a loaned executive from One Economy Corp is responsible for leveraging the public-private partnerships of more than 40 public, private and non-profit partners to develop Connect2Compete's program offerings which include digital literacy training, discount internet and computer offerings and a program evaluation.  As the SVP and Chief Program Officer at One Economy, she manages One Economy's field programs and outreach activities in the United States. Her team has the responsibility to increase the culture of use among low – moderate income people by building the capacity of local partners to integrate digital inclusion activities into their offerings for clients and promoting the Beehive.org and other One Economy media properties as online destinations in each community where the company is engaged. Sonja has over fifteen years of experience working in communities and engaging the public sector, non-profits and other organizations in the economic and community development process. She earned an MBA from Wake Forest University.
Bret Perkins
Vice President of External and Government Affairs
Comcast
Bret is responsible for Comcast's strategic partnerships with national public policy organizations as well as implementing the company's regulatory and legislative initiatives at the local level, managing relationships with state and local intergovernmental associations, and grassroots communications. Bret served in other capacities at Comcast, including Senior Director of Public Policy, Comcast Corporation and Vice President of Government Affairs for Comcast Cable Communications. Bret joined Comcast in 2001, and is credited with effectively managing a very large local government affairs function during a rapidly growing period for the company.  During this time, he managed the transition from an operation responsible for 22 states and 2,500 communities to one with 39 states and 6,000 communities. Previously he served as Vice President of System Services and Assistant to the President at Mercy Health System, a regional healthcare system in southeast Pennsylvania and subsidiary of Catholic Health East. In 2008 he was awarded the cable industry's Vanguard Award for Young Leadership. In 2010 he was named to CableFAX's 2010 Most Influential Minorities in Cable. In 2008 he was also named one of Leadership Philadelphia's Top 101 Emerging Connectors. Bret received a BBA in Business Administration from Temple University.
Rick Schadelbauer
Economist
National Telecommunications Cooperative Association (NTCA)
Rick Schadelbauer is NTCA's economist. He provides economic and financial analysis to support the work of the association's legal and industry affairs division. He also offers policy advice and advocacy to NTCA membership on telecommunications and related telephone company issues. He is a former member of the NBANC Board of Directors and belongs to the National Association for Business Economics. Schadelbauer holds a A.B. from Duke University and an M.A. from George Mason University, both in economics.
Jason Whittet
Deputy Director
Massachusetts Broadband Institute
Since 2009, Jason has been the Deputy Director of the Massachusetts Broadband Institute, the broadband program created by Massachusetts Governor Deval Patrick. In his role as Deputy Director, Jason spearheads the Institute's broadband adoption efforts, including the creation of MassVetsAdvisor.org.  Prior to the Institute, Jason worked in government and community relations for Comcast Cable, served as Project Director for the Office of Massachusetts State Senator Mark Montigny and was an AmeriCorps Volunteer with the Allston-Brighton CDC.  In 2008, he was a selected to represent the Commonwealth of Massachusetts in the Electoral College.  He graduated from Arizona State University, received an MPA from Northeastern University and served in the Massachusetts Army National Guard.  Jason is currently on the Board of Directors of the Rural Telecom Congress.
Moderator:
The event will be moderated by Drew Clark, Founder and Publisher, BroadbandBreakfast.com, a news and events company building a community around broadband stimulus, the national broadband plan, and intellectual property.  Drew Clark has a long-standing reputation for fairness and depth in his reporting. He worked for the National Journal Group for eight years, ran the telecommunications and media ownership project of the Center for Public Integrity, and was Assistant Director of the Information Economy Project at George Mason University. He has written widely on the politics of telecom, media and technology for a variety of publications, including the Washington Post, GigaOm, Slate, and Ars Technica. Drew launched BroadbandCensus.com in January 2008 as a means of providing objective information about broadband speeds, prices, availability, reliability and competition.
The Broadband Breakfast Club is a "widely attended event" under House of Representatives Rule 25, clause 5(a)(4)(A).
-----
For individuals outside of Washington, or those whose schedule doesn't permit attendance in person, archived webcasts of the Broadband Breakfast Club are available for free on BroadbandBreakfast.com.
The Broadband Breakfast Club seeks sponsorship of our events from interested companies and organizations.  For details on sponsorship opportunities, please contact Sylvia Syracuse at 646-262-4630 or sylvia@broadbandcensus.com. The Broadband Breakfast Club is produced by Broadband Census News LLC. 
Follow us on Twitter at www.twitter.com/broadbandcensus
______________________________________________________________
The Broadband Breakfast Club is Sponsored By:




When & Where

Clyde's of Gallery Place
707 7th Street NW
Washington, DC 20001


Tuesday, July 17, 2012 from 8:00 AM to 10:00 AM (EDT)
Add to my calendar
Organizer
Broadband Breakfast Club
BroadbandBreakfast.com is an internet policy news and events service devoted to breaking news on Broadband policy issues including Broadband Stimulus, Wireless, the National Broadband Plan, Universal Service, and more. Our trenchant articles are free at BroadbandBreakfast.com.

To complement our news service, BroadbandBreakfast.com also hosts monthly "Breakfast Club" events and other special events.
Our Broadband Breakfast Club series meets monthly on the THIRD Tuesday of the month (except for August and December).
Events are held at Clyde's of Gallery Place, 707 7th St. NW, Washington, DC. Metro Stop: Chinatown/Gallery Place.
Events are open to the public and held from 8 am - 10 am, with full Continental and American breakfasts served from 8 am - 8:30 am.
To subscribe to our news service go to BroadbandBreakfast.com.
To register for our next event click on
http://broadbandbreakfast.eventbrite.com
To view our past and future events see 
http://broadbandbreakfastseries.eventbrite.com
To view our event videos see
http://broadbandbreakfast.com/category/broadband-tv/
The Broadband Breakfast Club is Sponsored By:



Bringing Broadband Adoption to the Nation's Underserved Populations