Bring back memories of the 1980s with 80s cover bands, breakdancing, memorabilia and more, all for a great cause!
About this event
Here's an idea of what to expect this year:
No capacity restrictions! We will fill the pavilion with 3500 of the biggest 80s fans each night. There will not be a tent this year.
Admission price is lowered to $15! If you have already purchased your tickets, you will be automatically reimbursed for the difference shortly, no need to do anything.
Dance, dance, dance! We are now allowed to have a dance floor!
Hours have changed back to 6pm-midnight each night! If you already purchased your ticket, it will still be valid.
Shuttles will be available to all Frankenmuth and Birch Run hotels.
NO masks necessary unless you feel the need.
Saturday is 21 and over only. All ages are allowed Friday but may not be suitable for all ages. 17 and under must be accompanied by a responsible adult.
If we do not sell out in advance, there will be some tickets available at the door.
Of course, all of these things are fluid and can change at any time. We will keep up with all of the regulations and make sure we are following the rules so that we are able to have the event. We really didn't want to go another year without an 80s Fest… not only because it's so darn fun, but also because cancer doesn't stop!
Thank you in advance for supporting our mission to raise money for cancer related causes. We can't wait to celebrate the music and trends of the 80s with you on July 16-17, 2021.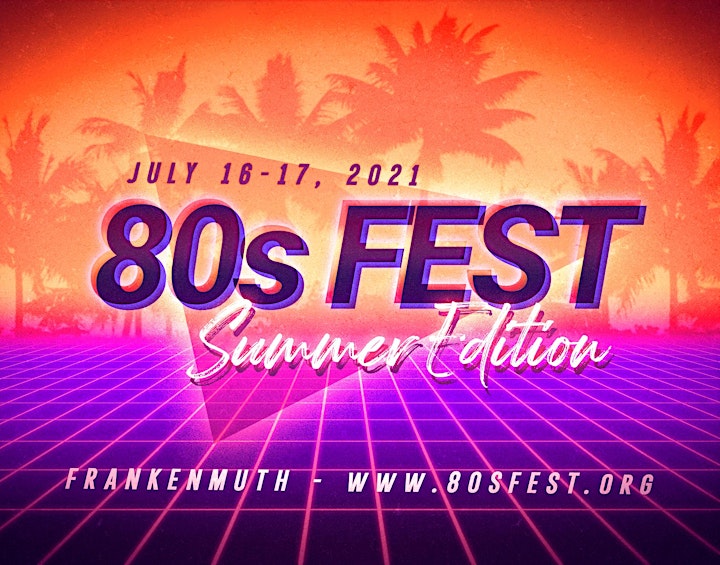 Organizer of Bringin' Back the 80s Festival- SUMMER EDITION
Family is important to us all, so let's get together to to raise money for people dealing with the hardships that come with cancer. Jill Zehnder passed away in 1999 at the age of 43 after a brief battle with cancer. As Jill's family, we are determined to do our part by donating the profits from this event to cancer-related causes. Jeanna Rogner, the youngest of Jill's daughters, heads the organization along with her sisters, Jodi Reinert and Juli Cleary, and cousins Shelley VanWormer and Cameron Sanborn. Join us for another totally gnarly festival!