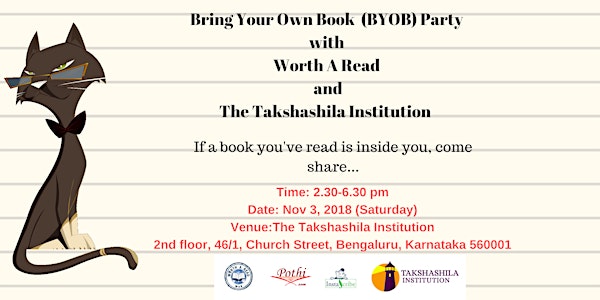 Bring Your Own Book (BYOB) Party at Church Street on Nov 3, 2018
When and where
Location
The Takshashila Institution 2nd floor, 46/1, Church St, Haridevpur, Shanthala Nagar, Ashok Nagar Bangalore, Karnataka 560001 India
Description
BYOB Party is back and this time, Worth A Read will be hosting the party with The Takshashila Institution in their office on Nov 3, Saturday.

Have you read a book that you are craving to chitchat about with someone? Have a favorite book that you think everyone would love, if only they knew about it? Want to see what others are reading and have interesting conversations beyond weather, traffic, and real estate?

Then come to the BYOB party on November 3, 2018 and talk away! Try to avoid a bestseller and if you have a copy, bring it along and read us a passage. All languages are welcome.

There will be refreshment courtesy The Takshashila Institution and swag courtesy Worth A Read (http://wortharead.pub).


FAQs
So, what really happens at a BYOB Party?

Everyone brings a book and talks about it. Conversations follow and they are good. So are the refreshments!

You can take a look at what happened in some of our earlier parties here: