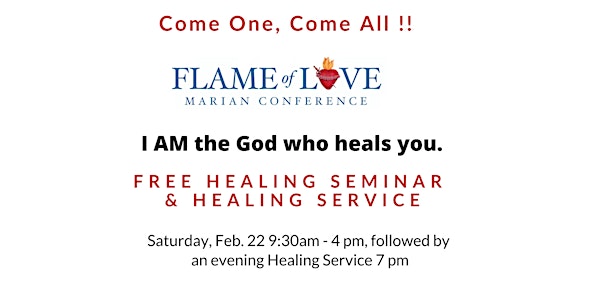 Bring Your Friends & Family!
Location
St. Louis Abbey
500 South Mason Road
St. Louis, MO 63141
You shall serve the Lord your God, that I may bless your bread and your waters, and may take away sickness from the midst of thee. Ex 23:25
About this event
Healing Seminar
9:30 - 10:30 am - Preparing our heart to receive God's healing power
11 - 11:45 am - Drawing closer to God
Noon - 1:30 pm - Lunch break
1:30-4 pm - Receiving God's healing
Healing Service
7 pm - Receive your miracle
Testimonials from November 2019
My back was completely healed after 40 years of constant pain. I used to be able to stand for only 15 minutes at a time. Now, I can stand for 6 hours plus. This is a miracle. -E.G.
I was in a wheelchair for over 3 years and even had to give up my job. Now, I am walking without any assistance, and discovering all that God has in store for me. Praise God! -J.B.
After the healing service, all my symptoms of cancer went away. I am waiting to get clearance from my doctor. But I truly believe that I am healed. -L.W.
I suffered from severe food allergies and seasonal allergies. I thought it was impossible to find a cure to these ailments. I found out that nothing is impossible with God. -N.B.
Our family was blessed by the healing power of the Holy Spirit in ways I couldn't have imagined through Rev. Blount. -S. T.
It brought us hope and a plan to move forward. -M.T.