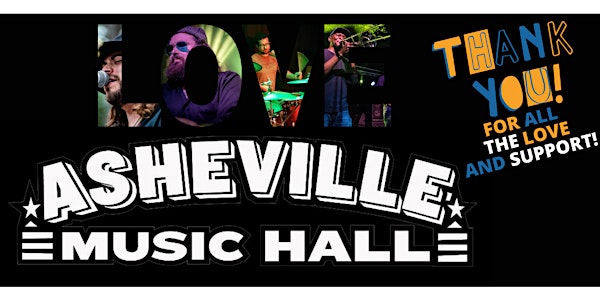 Bring The Love! - Live Music Benefit show for Asheville Music<3 - SOLD OUT!
Local Asheville Musicians
Location
Asheville Music Hall
31 Patton Avenue
Asheville, NC 28801
This year, spend your Valentines Day's lovin' Asheville Music Hall!
About this event
Our Valentine's Day benefit show is officially SOLD OUT but we will have our live stream available so more can join us! Donation link still live here: https://weloveamh.eventbrite.com
Thank you all so much for you love and support!
- - - - - -
Being closed for a entire year now, Asheville Music Hall needs our help more than ever. And after bringing so much love into our lives, it's our time to bring the love for Asheville Music Hall! So come enjoy some great tunes from local musicians as we raise some funds for our beloved venue.
::: ALL YOU NEED TO KNOW ABOUT THE EVENT :::
When: Sunday, 2/14 ♥Valentine's Day♥
This is a seated, limited capacity and socially distanced show
Tables are reserved by GIVE-WHAT-YOU-CAN donation (by clicking the green "TICKETS" button)
If you cannot attend the event or do not want to, we have included a donation button for just donations. And, we'll share the live stream link!
Tables are first come first serve.
As this is a benefit/fundraiser, tickets may NOT be resold, may NOT be transferred to another name and only 1 table reservation can be reserved per person. Thanks for understanding!
Tables/Tickets available vary from reserving 2 person bar seats, 4 top table or a 6 top table.
Ticketing Link: https://weloveamh.eventbrite.com
Please make sure to double check the amount of seats for each ticket before reserving.
Doors: 4pm
Music: 5pm-9pm
Curfew: 10pm
Performances feature a mix of all the weekly live music residencies each doing 45 minute sets plus a Asheville Music Hall specialty, A SUPER JAM at the end!
Artists include:
- The Gunslinging Parrots
-Lenny Pettinelli (Early Tuesday Funk Jam)
-Ethan Heller (The Lasso Twins)
- Derrick Johnson (Tuesday Night Funk Jam)
- And More!