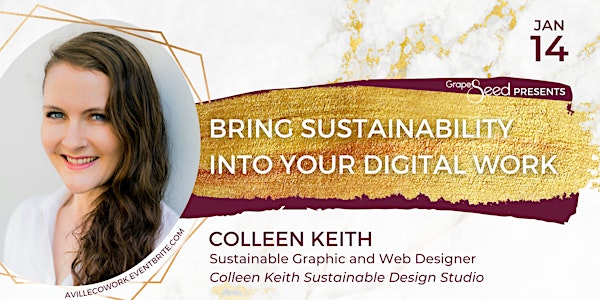 Bring Sustainability Into Your Digital Work
Learn some of the ways the internet + our devices contribute to carbon emissions, plus how to reduce your footprint and your visitors'.
About this event
If the Internet was a country, it would be the 6th largest polluter in the world.
The internet is here to stay and growing in use every year. Our digital world brings many wonderful things into our lives, but it's also taxing our environment and resources with its steadily increasing demand for electricity.
This workshop will walk through some of the ways the internet and our devices are contributing to carbon emissions, as well as ways in which we can improve our websites and digital work to lower not only our impact, but also the impact of our website visitors.
You'll leave with an action plan of items and suggestions on how to start making a difference, as well as additional resources if you want to learn more.
——
About the Speaker
Colleen Keith is a sustainable graphic and web designer with her own small business, Colleen Keith Sustainable Design Studio.
Connect Online
Website: colleenkeith.com
Instagram: @colleenkeithdesign
LinkedIn: Colleen Keith
After registering, you can view event links to find the Zoom link. Access this either from your Eventbrite profile, or use the orange button in the reminder emails.