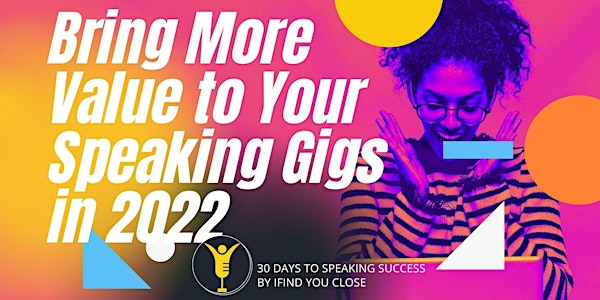 Bring More Value to Your Speaking Gigs in 2022
30 Days to Speaking Success by iFind You Close. Monthly series to discover what you need to do NOW to move your speaking career forward.
About this event
Take action on the 5 key components to bring more value to your speaking gigs in 2022. With the event and speaking industry ever-evolving to today's climate, it is time to get the most out of your next speaking gig by being prepared with call-to-action income streams, getting referrals for your next stage, and creating a successful marketing strategy to get on more stages this year.
Questions about landing or pitching speaking gigs?
Get your questions answered on the best strategies to land speaking engagements. From TEDx to negotiating PAID keynote events to selling from the stage... get advice on how to leveraging speaking to grow your authority and brand. Along with supporting you, get behind-the-scenes info on the speaking industry, trends from event planners and tips on how to stay ahead as a speaker.
About iFind You Close
Speaking Opportunities Delivered
Sign up for the FREE advice. UPGRADE and start marketing your business on stage.
With your upgraded access, enjoy quality, researched speaking leads and opportunities delivered weekly for you to pitch. No hassles. No contract. Cancel anytime.
Get instant access to event details such as target industry, topics wanted and compensation availability
Enjoy extensive resources on the best ways to land more speaking gigs, workshops on pitching and upgrading your career for virtual events
Gain access to all upcoming, and archived, office hours videos to stay up to date on the speaking industry and what to expect on and off stage