Bring Me A Book Read Aloud Resource Guide Training and Symposium

Saturday, March 10, 2012 from 8:30 AM to 4:00 PM (PST)
Event Details
A preschool and kindergarten teacher education event including:
A Breakfast Reception.
The Read Aloud Resource Guide, a comprehensive, integrated curriculum for educators, used to enhance classroom learning environments, provide teachers with new ways to help children improve their language through educational activities. By providing coaching and early literacy training for teachers, they are able to fully integrate literacy throughout their classrooms. The Guide's aim is to help PreK and K teachers, especially those who lack professional development, to develop the knowledge base they need to incorporate reading aloud in their classrooms.  This includes helping teachers develop an understanding of developmental milestones for three-, four-, and five-year-olds; knowledge of effective instructional practices for young learners; familiarity with children's literature; and an appreciation for the joy of reading. The Read Aloud Resource Guide invites teachers of preschool and kindergarten children to learn about responsive teaching, developmental literacy, superb children's literature, and the best ways to support all children. Each attendee will receive a copy of the guide and books for his/her classroom.
Verizon's Award Winning Educational online resource, Thinkfinity.org. Inside the Thinkfinity Professional Development Community group, teachers will learn how to connect with other trainers, and find training updates and materials. Teachers and Educators will learn key Thinkfinity enabled navigation techniques as well as integrated teaching skills, such as teaching children using technology, how to create interactive learning environments for children, improving classroom learning for children through computer-assisted learning and instruction for children, and the design of educational technology systems for children. This session will feature the latest innovations in literacy instruction, research & practice to foster children's early reading proficiency. Focusing on preschool and elementary education, the session will include subjects such as research and design of educational tools, teaching and learning theories for early education, and educational technology.
A Lunch Reception.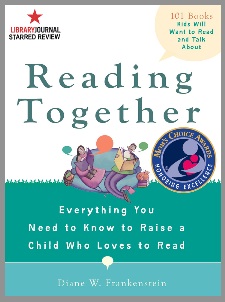 The afternoon portion of the program will be led by Diane Frankenstein, author of the award winning book Reading Together, Everything You Need to Know to Raise a Child Who Loves to Read. In Reading Together, Frankenstein outlines her simple equation: read a book, ask a question, start a conversation, and teach children to love to read. Diane will model "Conversational Reading', a comprehension strategy to help children get the most from the books they read.  In addition she will offer tips and strategies to help children become the readers they deserve to be. Frankenstein will also give teachers a whirlwind tour of a great selection of read-aloud books for the classroom and books children can read on their own.  Each participant will receive a copy of Frankenstein's book. Reading Together is the recipient of the MOM's GOLD CHOICE Award and received the Library Journal's Starred Review.
For more information visit: www.dianefrankenstein.com
Presenter Bios:
Diane W. Frankenstein, M.A.  
An award-winning author of Reading Together: Everything You Need to Know to Raise a Child Who Loves to Read. She holds a Master's Degree in Children's Literature and Language Arts and works as an educational consultant in children's and adolescent literature throughout the United States as well as in Asia and Europe. Reading Together has received both the Library Journal Starred Review and GOLD Mom's Choice Award. For More information visit www.dianefrankenstein.com
Julie Fowlkes, Bring Me A Book Master Teacher Trainer
With 36 years of experience as a Reading Specialist at the elementary school level, Julie Fowlkes brings both the knowledge and the passion to effectively inspire parents, teachers and all community members from varying cultural and linguistic backgrounds. Julie has been instrumental in developing Bring Me A Book's benchmark program to be replicated and taught in all languages and to all audiences regardless of reading experience. Through her impassioned expertise and dedication to crafting a daily reading program to fit the specialized needs of both parent and children, Julie has helped establish the First Teacher and Train the Trainer program as an optimal literacy training tool for every community to encourage a passion for reading in children.
This Symposium was funded by a generous grant from the Verizon Foundation. Bring Me A Book thanks them for their support.
When & Where

Silicon Valley Community Foundation San Mateo Conference Center
1300 South El Camino Real
San Mateo, CA 94402


Saturday, March 10, 2012 from 8:30 AM to 4:00 PM (PST)
Add to my calendar
Organizer
Bring Me A Book
Bring Me A Book's mission is to provide easy access to the best children's books and inspire reading aloud to children.By providing libraries of high quality children's books and read aloud workshops to underserved communities, Bring Me A Book inspires reading aloud to children, the most imortant factor in determining a child's future success in reading. For more information on our programs, please visit our website at www.bringmeabook.org