| | |
| --- | --- |
| Bring back the Warrior Bus | |
Event Details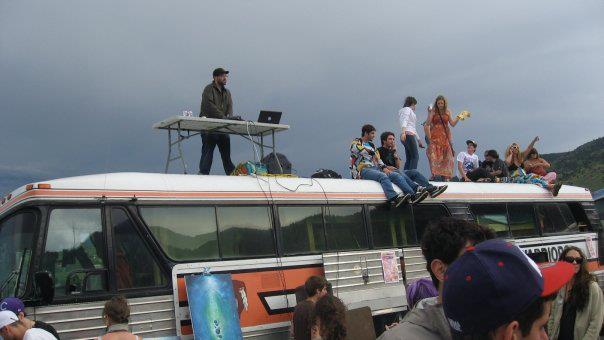 As we speak, the infamous Worland Warriors bus sits quietly in a mechanic's lot in Fort Collins, CO, patiently awaiting the moment when the its engine will roar its mighty diesel-powered battle cry once more.
All that is standing between this moment and that glorious future is about $10,000 worth of maintenance so that it can pass the DOT inspection for safe operation, and another $5000 worth of insurance, registration, and inspection fees. $15,000 is a lot of money. $100 isn't so bad, though. And $15000 is only 150 one hundred dollarses.
Surely, there are 150 people whose lives have been positively affected by the experiences they've shared, the friends they've made, and the music they've been exposed to through riding the Warrior, to warrant a donation of at least $100 toward resurrecting it and allowing it to roam freely the streets of Boulder, Denver, and the long-open highways that lead to mystical magical musical festivals.
And if $100 does not reflect your ability to contribute, feel free to give less or more, just give something, please, to show your support for this bus and the magic it has in it.
For those of you who have never known the infinite realms that exist within the walls of the Warrior bus, suffice to say that this creature has a power worth knowing. A power that will change you like it has all of us. It is known that those who give on faith alone have the worthiest of hearts.
Time is money, and money is time, so let's put some cash in the time machine and bring the future to us as fast as possible. This thermometer shows how much progress we've made toward that $15000 future. It does not update automatically, but I will make changes manually to show where we're at on our quest.
Please do your best to contribute and spread the word to anyone who may be able to help us get there faster.  The Basics Fund's 5th birthday is 5/21/12.  If we can reach this goal by May 1st, it would mean that we can most likely have the Warrior up and running in time for the Birthday Party.  But the sooner the better.  If we hurry, it is entirely possible to get it this beast running in time for Red Rocks season to officially begin.
Whenever this glorious day comes, there will be a new question.  Who gets to ride?  Anyone who contributes $100 or more will receive a pasword that allows them first dibs on Warriors a warrior bus spot.  This is good for 1 spot per $100 donation.  If the bus is not full yet one week prior to each event, reservations will be opened up to all members of The Basics Fund.
We will also be listing all donors on thebasicsfund.org and bustoshow.org.  Companies who donate at least $500 will receive their logo and link on our sites.
Anyone who donates $1000 or more will receive a season pass membership to ride on any TBF bus to any show we service for the entire Summer--through the end of September 2011
Thank you all for reading this and for supporting The Basics Fund and Bus to Show all this time through all our ups and downs.  It is truly a blessing to be a part of such an amazing community.
Love with Every Chamber,
Dustin Huth
Attendee List
Sort by:

Date

|

First Name

|

Last Name
No one has registered for this event yet.
Organizer
The Basics Fund:  Raising funds to pay for artists' health insurance while simultaneously promoting their work through publications and events.

Note: The Basics Fund is a community  & member supported non-profit organization.
www.thebasicsfund.org

Bring back the Warrior Bus