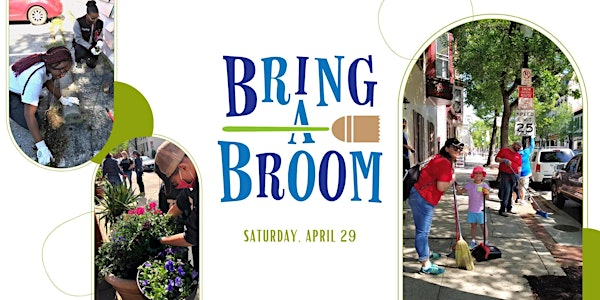 Bring a Broom Saturday 2023
Volunteer clean-up day in Downtown Frederick!
By Downtown Frederick Partnership
Date and time
Saturday, April 29 · 8:30 - 11:30am EDT
Location
Downtown Frederick Partnership 19 E Church Street Frederick, MD 21701
About this event
GROUP REGISTRATION: Bring a Broom Saturday is a great volunteer opportunity for companies, sports teams, social clubs and civic groups. If you're volunteering as part of a group, select your team name from the dropdown menu during registration. If you're a group leader and need to create a team registration, please contact leeann@downtownfrederick.org.
GENERAL INFO: Volunteer a few hours of your time with friends and neighbors to help make downtown shine! Volunteers will sweep sidewalks, mulch tree wells, pick up trash and plant flowers. Volunteers of all ages are welcome.
WHAT TO BRING: Bring your own broom, dustpan, work gloves, light gardening tools (trowel, small shovel, etc.) and water bottle — trash bags will be provided.
WHERE TO REPORT: Volunteers should report directly to their assigned clean-up locations at 8:30AM. Your clean-up location will be assigned to you in advance by the event organizers. There will not be a centralized volunteer check-in at the Partnership office. Event organizers will be circulating around downtown to assist volunteers.
REGISTRATION DEADLINE: All volunteers must register in advance. The deadline to register is 10AM on Monday, April 24. Please register by this time so that you can be assigned a clean-up location in advance.
VOLUNTEER LUNCH: Volunteers are invited to join us for an optional volunteer lunch between 11:30AM-1PM. Lunch is complimentary! Please indicate on your volunteer sign-up whether or not you plan to join us for lunch so we know how many mouths to feed. Thank you!
Disclaimer: Downtown Frederick Partnership, its sponsors, and other coordinating bodies assume no responsibility of any kind for any claims, injuries or damages resulting from your cleanup, regardless of the cause. You agree to waive all claims, hold harmless and indemnify Downtown Frederick Partnership, its sponsors, coordinating bodies, officers and directors against all claims arising from or related to your cleanup event registered with Bring a Broom Saturday. By submitting this registration you affirm that you have read and understand this disclaimer and you hereby agree to the conditions for participation. This disclaimer shall be interpreted under the laws of the state of Maryland and any disputes or legal proceedings resolved in said location. By submitting this registration, you acknowledge that you have authority to enter into this agreement.
FAQs
Who do I contact if I need more information about the event?
Please reach out to Leeann Crews, Associate Director for Downtown Frederick Partnership, at leeann@downtownfrederick.org or 301.698.8118.
Is there an age limit to participate?
All ages are welcome. For kids younger than 16, we ask that a chaperone volunteer with them to help guide the children's work. For teens older than 16, we welcome them to work without adult supervision. All volunteers are asked to follow the direction of the on-site Block Captain. The Block Captain was recruited to serve as a resource to Bring a Broom volunteers and guide the work in each block.
What about bad weather?
In case of rain, the event will be held on Saturday, May 6th, 2023 from 8:30 to 11:30 AM. Some event aspects may be canceled if rescheduling is required due to weather. Please keep an eye on your email and check our Facebook event page for the most up to date information.
Do I need to print a ticket?
You do not need to print a ticket or bring a ticket with you to the event. Simply register online. The event organizers will assign you a clean-up location prior to the event.
Do I need to register in advance? Can I sign up the day of the event?
There will not be an in-person check-in during the event. Therefore, we ask all volunteers to register in advance (using the online Eventbrite page) in order to receive a clean-up assignment .
Can I ask for a specific block to clean up?
Groups can request a specific block for clean up, but they will be assigned on a first come, first served basis. If you would like to request a specific location please email Leeann Crews at leeann@downtownfrederick.org to coordinate the details.
Where do I park?
You are welcome to park in any of the City parking garages. The Church Street Public Parking Garage (17 E Church St) is located directly adjacent to the Partnership office. For more information, see www.parkfrederick.org.
What areas of Downtown Frederick are being cleaned?
Volunteers will help clean Patrick Street between Bentz and East Streets and Market Street between South and Ninth Streets. The clean-up area also includes the residential blocks, alleyways and several parks from South Street to Ninth Street between Bentz and East Streets.
About the organizer
Downtown Frederick Partnership works to enhance, promote and preserve the vitality, livability and diversity of Downtown Frederick — a national Main Street community.