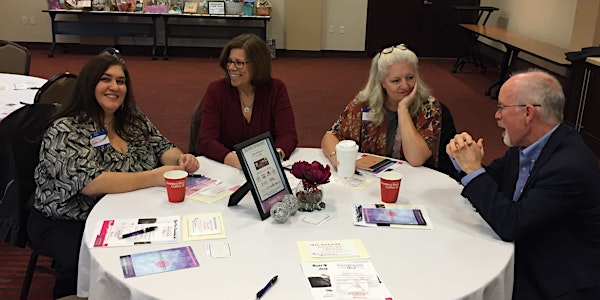 Brilliant Business Books: More than a Story
When and where
Location
Hyatt Hotel 212 Racetrack Rd Washington, PA 15301
Refund Policy
Refunds up to 30 days before event
Description
You're invited!
Author and writing coach Cori Wamsley warmly presents her upcoming event Brilliant Business Books: More than a Story! Discover how to take your business to the next level! Our guests have the exclusive chance to meet and listen to three amazing business owners whose books are helping build their businesses!
Plus, enjoy vendors, networking, a luncheon, and giving back: Brilliant Business Books benefits The Global Sisterhood, which helps women and children across the globe. Guests will also be able to purchase books and programs from our authors at the event. A silent auction promises some exciting prizes for attendees!
Cori is proud to present three amazing speakers....
Pamela Power Scanlon, M.S. is a mama of 3 boys, a children's book author, and a family health educator & advocate. You can learn about her book, The Super Dynamos, Max's Transformation Begins, as well as her Live a Love-Motivated Lifestyle! video series and blog by visiting pamelapowerscanlon.com.
Matt Scoletti energizes individuals, teams, and companies to live a higher quality of life. He is an entrepreneur, author of The First 15: The Morning Routine That Took Me From Barely Surviving to Livin' The Dream!, professional speaker, and philanthropist who is driven to improve the lives of everyone he meets. Connect with him at mattscoletti.com.
Dr. Christina Tarantola, PharmD, CHC, CHt is a licensed pharmacist, certified health coach, certified hypnotherapist and Founder of Enlightened Wellness Solutions, a wellness company geared to empower women to find freedom from food addiction. Dr. Christina is also a passionate author of three books: Revealing Your Inner Radiance: Healing through the Heart, Reclaim Your Power: A Roadmap to Re-energizing Your Life, and Lighten Up! 7 Weeks to Release, Recharge and Revitalize. You can reach her at enlightenedwellnessPA.com.
Pamela, Matt, and Christina will share their insider secrets for using books as invaluable tools for marketing and trust-building in their businesses. Cori will join them with insight on the fastest way to actually write your book. Their talks will be followed with an author panel for questions.
Cori Wamsley, your host, is a writing coach, book editor, executive editor of Inspiring Lives Magazine, and author of the Martina Mackenzie series, The Knight and the Ninjas, and Confessions of the Editor Brigand. She also co-authored Monkey Mermaid Magic with her daughter London. She is a board member of The Global Sisterhood nonprofit.
Early bird discount till March 13. Don't miss out! Get your tickets now.
For a discounted table (6 seats) or sponsorship or donation opportunities, please contact Cori at Cori@CoriWamsley.com. Additional parking is available behind the Hyatt in the Meadows Casino garage.