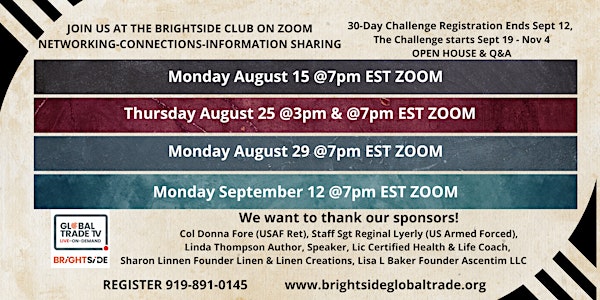 Brightside Showcase: Stories-Interviews-Reviews
Brightside Club on ZOOM (Networking Event & Open House with Q&A)
About this event
Brightside Club on Zoom & OPEN HOUSE with Q&A
This is a LIVE Taping that will be broadcast on our multichannel magazine Visit us 24/7 www.brightsideglobaltrade.org
3:00pm EST: Lisa Baker, Founder Ascentim
For more than two decades, Lisa has achieved extraordinary success in a series of leadership roles with fortune 500 companies that include Synchrony, Microsoft, Citigroup and Bank One. At Synchrony, she was one of only nine Black female executives among more than 16,000 employees and was the Senior Vice President and General Manager responsible for growing the $2.5B eBay credit portfolio.
3:30pm EST: OPEN HOUSE - Brightside 30 Day Challenge. This session will be informative for all to ask questions about registration, the program and an opportunity to meet some of our sponsors who will share their experience and knowledge.
7:00pm EST: "Ask Questions - Webinar " Sponsor/speaker Sharon Linen
Authors Sharon Linen will weave poignant and valuable stories brimming with lessons of self-confidence, self-awareness, inspiration, and positivity. Get the AddyBee123 collection, Linen & Linen skillfully broach both subjects that can be difficult discussions and those that spark joy. Families and educators of young children will welcome the invitation for discussion that this vibrant collection brings. Get the books https://www.amazon.com/dp/B08GSQK5NN
Brightside Club Aug Networking Event & Open House (ALL ARE WELCOME)
Entrepreneurs, Authors, Artists, Business & Community Leaders
We meet Virtually and In-Person to Network, Connect and Share Information
We are introducing the 30-Day Brightside Challenge that will start on Sept 19 - Nov 4, the Open House and Q&A will be an opportunity for you to find out more and register for the Challenge.
For more information call 919-891-0145 https://brightsideglobaltrade.org/calendar
For more information visit us www.brightsideglobaltrade.org