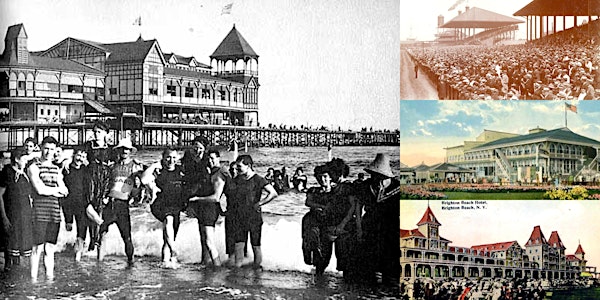 'Brighton Beach: From Old NYC Resort Neighborhood to Little Odessa' Webinar
Can't make it live? Register and get access to the full replay for one week! New York Adventure Club | www.AdventureClub.com
About this event
Before the iconic rides and famous hot dogs of Brooklyn's Coney Island stole the spotlight, the main hub of beachside entertainment in New York City was located one mile east in a neighborhood called Brighton Beach. It's time to explore the stories, legends, and mysteries of New York's original resort enclave, and how it became the local getaway destination for well-to-do New Yorkers for decades to come.
Join New York Adventure Club as we explore the history of Brighton Beach, a beachside neighborhood in Brooklyn that was home to New York City's great resorts of the 19th century, which featured everything from race tracks to gambling halls.
Led by NYC Licensed guide Deborah Blau, our virtual trip to what was once known as "Brooklyn's Riviera" will include:
How Brighton Beach evolved from a small beachside neighborhood into the ultimate staycation destination for upper-middle-class New Yorkers in the 1800s
A look at the million-dollar resorts and the entrepreneurs who built them
A taste of the myriad of entertainment options at these resorts, including hot air balloon shows, oompah bands, race tracks, vaudeville, gambling halls, wild animal shows, and more
Bathing fashions and beliefs throughout the centuries
How Russians became the largest diaspora of any NYC neighborhood for one nationality, earning it the nickname "Little Odessa"
Afterward, we'll have a Q&A session with Deborah — any and all questions about Brighton Beach are welcomed and encouraged!
Can't make it live? Don't worry, you'll have access to the full replay for one week!
See you there, virtually!
*Once registered, you will receive a separate, automated email containing the link to join this webinar
**For the best possible viewing experience, please ensure you're using the latest version of your internet browser — Google Chrome is the most compatible. Exact technical requirements and a webinar user guide will be shared in the automated confirmation email upon registration.
***A full replay will be available after the experience for all registered guests
About Deborah Blau
Deborah is a licensed tour NYC guide, artist and Coney Island "Fan Girl". She grew up over 700 miles from Coney Island, near another beach, in Nova Scotia, Canada. Though she is a freckled redhead - and not much of a swimmer, she loves Brighton Beach for the heady mix of sea air, delicious food - and that sense of mystery that she finds under the dark rattle of the elevated train.
Testimonials
"Great slides with anecdotal history comments by presenter" -Barry
"It is wonderfully informative. Very interesting documentary. The visuals were delightful. Warm and personalized presentation. Felt like a friend sharing fascinating information" -Irene
"It was so interesting. I grew up going to Brighton and Coney Island, but knew nothing about its history. Deborah entertainingly and cleverly combined history and culture while connecting to the audience in a warm and natural manner. I enjoyed it thoroughly. I'm hoping she can repeat this podcast for all the friends with whom I share memories of those times." -Sandra
"I liked all the detail and the little extra media that Deborah added, music, train rides, etc. She did a huge amount of research for this presentation. Full of information, even down to the food! Thanks Deborah!" -Mel
"Covered a fair amount of ground in a relatively short presentation given the amount of history to try and cover" -Eric
"I liked the concise overview of the history of the neighborhood with interesting tidbits of history and cute sound effects" -Olga
"Awesome story telling and information presented in an interesting engaging way" -David
"Interesting information about the 19th century development of the area." -Marion
"I liked the personal insight and pics. loved the little sound effects..the "immersion" effects. cutest lady doing the preso. very lovely event" -Noelle
"Great amount of detail. My father grew up in Brighton Beach. Good presentation." -Karen
"Such a fascinating history of Brighton Beach, told really well by Deborah Blau. She has a real passion for the subject, perhaps in part because she has family history there." -Leigh
"Well researched, good flow/timeline, host was very easy to listen to" -Charles
"Entertaining speaker, wealth of illustrations [including maps and annotated images - especially welcome for those of us who don't know the area]." -Jennifer
"Loved the pictures in the presentation and the history. The moderator was terrific ... very knowledgeable and fun. It was a journey down memory lane for me. I signed up for future events and look forward to them." -Sandra
"Excellent presentation- good info- Deborah has a great grasp of the info" -Susan
"I learned so much about a part of NYC I had never visited." -Susan
"Knowledgeable guide, good expression, interesting facts" -Steven
"So informative. Covered history and today. Great illustrations and recordings from the time." -Ruth
"So well researched and so much historic detail!" -Ann
"I liked Deborah's sense of humor, in addition to her knowledge." -Ronald
"I liked the history of the area that ended in present day." -Vanessa
"Very interesting and informative - lots of great information." -Philip
"Well organized, covered a lot of ground. Very good job covering the cuisine available without going overboard." -Robert
"This was my childhood home so it was nice to learn all the history of the area." -Eileen
"A lot of information I was unaware of. Having grown up in Brooklyn (in Gravesend) it's nice to get all the history. Now I know the origin of what I thought was a strange name for a town." -Paul
"The lecture was well organized and fascinating!" -Norma
"Very clearly and smoothly showed the changes over the years." -Linda
"Loved the historical perspective. Great visuals. Nice follow-up to Norman's two parts of Coney Island." -Bonnie
"I grew up in Brighton Beach and loved the photos and learning about its history" -Marlene
"Informational and historical" -James
Disclaimer
By attending a New York Adventure Club experience, you accept our terms of service.
Categories: Virtual, Neighborhoods