Bright Light Bright Light, Slow Knights and Honey Soundsystem
When and where
Location
Public Works 161 Erie Street San Francisco, CA 94103
Description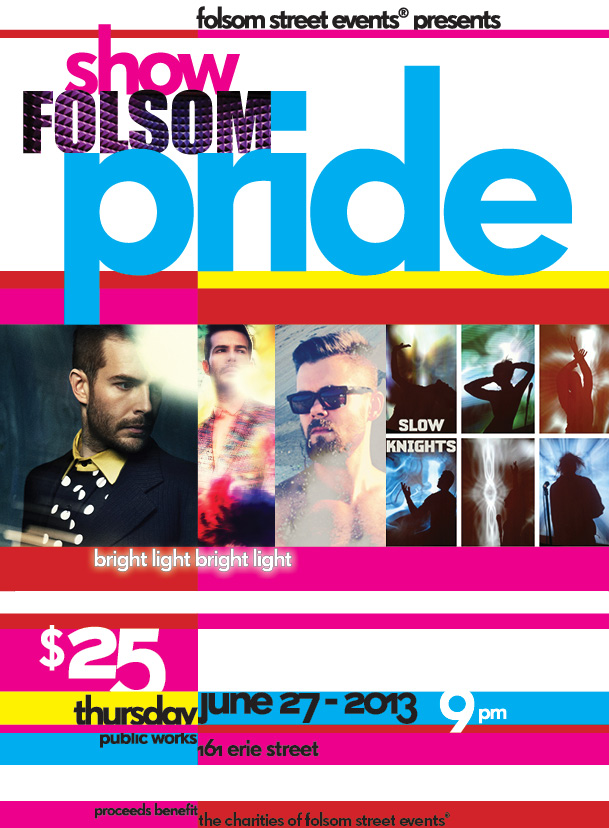 For the first time ever, Folsom Street Events throws one big-ass party so YOU can show your FOLSOM pride! You've asked for it, so we're giving it to you. Come enjoy the best of Folsom-branded entertainment for an evening that will get you ready for our events season. Featuring Honey Soundsystem and up-and-coming acts Slow Knights and Bright Light Bright Light, this is an evening NOT to be missed.
After a decade in one of the most successful crossover bands, Scissor Sisters, few would expect member Derek Gruen (a.k.a. Del Marquis) to strip away his pop persona to create an album that relies so beautifully on the synergy of a carefully selected and intertwined group of collaborators. But he did just that for his debut full-length album Cosmos, under the moniker Slow Knights. Both a soulful and sharp-tongued album at once, Cosmos sheds light on the record's motivation. In meaning an orderly or harmonious system, Cosmos suggests something dream-like, enticing and full of the unexpected.
Bright Light Bright Light is the moniker of Welsh-born Rod Thomas, a singer, writer, producer and DJ that NME have called "the boy Robyn in all but name". The debut single Love Part II was a taste of what Rod has been working on for his debut album Make Me Believe In Hope with the likes of Andy Chatterley (Kylie / Nerina Pallot), Boom Bip (Neon Neon) and The Invisible Men (Jessie J). Drawing influence from the late 80's and early 90's, Rod has crafted a brand of shimmering electro-pop that nods to Depeche Mode, Bjork, and Yaz. Mixing a love of classic songwriting with a love of the dance floor, Attitude Magazine described him as "Creator of emotional disco moments that only Kylie or Robyn can normally provide."
HONEY SOUNDSYSTEM DJs will follow the bands with a sordid set of underground beats from the beyond. Experience the hottest nightlife crew around.
You must be 21 years of age, or older, to attend this event.

ID required for entry.

Tickets are non-refundable.