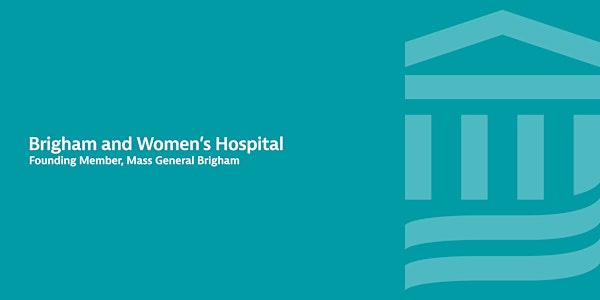 Brigham and Women's Adolescent Prenatal Education Series
VIRTUAL Adolescent Prenatal Education Series
About this event
Brigham and Women's Hospital
Virtual Adolescent Prenatal Education Series
This is a series of three classes, held on three consecutive weekday evenings.  Each class will be a different topic.  Register once, and your ticket includes all three classes.
Brigham and Women's Adolescent classes are open to all Brigham and Women patients who are 21 years of age or younger.  You are encouraged to bring your partner or support person with you to the classes.
This is a virtual class, conducted live with our Childbirth Educator, Tara Campbell.
Series Class 1: Childbirth Education
This class will cover the signs and symptoms of labor; when to come to the hospital; breathing and relaxation exercises, and tips to promote comfort and coping during labor. You will also learn more about anesthesia or pain management options; cesarean birth and induction of labor.  Includes Maternity Tour.
Series Class 2: Breastfeeding
Taught childbirth educators, our breastfeeding class covers the function and structure of the breast, latching and positioning, importance of nutrition for breastfeeding mothers, infant feeding patterns, growth spurts, and recommendations on pumping and storage of breast milk.
Series Class 3: Infant Care
This class will provide expectant parents with guidance, tips and support as they prepare for the birth of their child. In this class you will learn about infant bathing and dressing, feeding, infant communication, crying, sleep patterns, signs of illness, how to take a baby's temperature, when to call a physician and the needs and adjustments of becoming a family.
Series Class Dates: 
April Series: Please note: dates are NOT consecutive this month
Wednesday April 1, 6:00-9:00pm  Childbirth Prep
Wednesday  April 22, 6:00-8:00pm  Breastfeeding
Wednesday  April 29, 6:00-8:00pm  Infant Care
May Series:
Wednesday May 6, 6:00-9:00pm  Childbirth Prep
Wednesday  May 13, 6:00-8:00pm  Breastfeeding
Wednesday  May 20, 6:00-8:00pm  Infant Care