Brigadier General (Ret.) Leon A. Johnson Reception
Description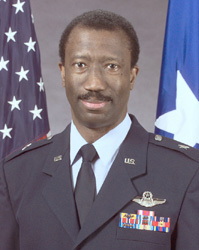 You are cordially invited to attend a reception honoring Brigadier General (Ret.) Leon A. Johnson
Tuesday, November 13, 2018 | 5:30PM - 7:30PM
National Multicultural Western Heritage Museum | 2029 North Main Street, Fort Worth, TX 76164
RSVP Requested| www.Eventbrite.com | Email Info@Cowboysofcolor.org | (817) 534-8801
ABOUT THE HONOREE:
BRIGADIER GENERAL (RET.) LEON A. JOHNSON
NATIONAL PRESIDENT - TUSKEGEE AIRMEN, INC.
Leon Johnson retired from the U.S. Air Force with the rank of brigadier general after 33 years of service. During his AF career, General Johnson commanded a fighter squadron, fighter group, was the Vice Commander of 10th Air Force at the Joint Reserve Base in Fort Worth, TX and served as Mobilization Assistant to the Assistant Secretary of the Air Force and Director Operations at Air Education and Training Command. A command pilot with over 3500 hours of military flying time in the T-37 trainer, A-37 and A-10 fighter aircraft including missions over Bosnia in support of Operation Deny Flight. Following the events of 9/11, the general served as a Director of the Air Force Crisis Action Team in the Pentagon. In 2011 General Johnson was awarded a Doctorate in Human Letters by Tuskegee University. In November 2017, he concluded his second three-year term as a Secretary of the Air Force appointee to the Civil Air Patrol (CAP) Board of Governors. In April 2018 General Johnson was selected to ben an Emeritus Member of the CAP Board of Governors. General Johnson is a member of several organizations including the Air Force Association, Military officers Association of America, Military Order of World Wars, Veterans of Foreign Wars, Reserve Officers Association, League of United Latin American Citizens, Women in Aviation, founding member of the International Black Aerospace Council, Inc., and Tuskegee Airmen, Incorporated. General Johnson was elected to his fifth two-year term as the Tuskegee Airmen, Incorporated national president in July of 2018.